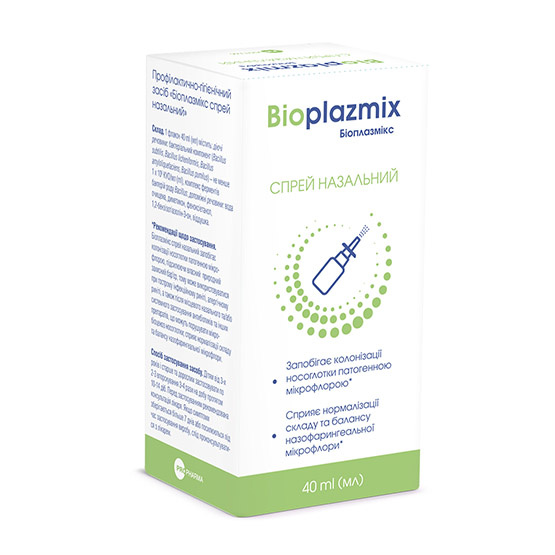 Preventive and hygienic means
Bioplazmix Nasal Spray
Bioplazmix Nasal Spray
The nasal spray Bioplazmix based on spore-forming bacteria is recommended to reduce the risk of infection with colds, restoration of damaged mucosal epithelial cells in the presence of diseases of the upper respiratory tract.
Information
Indications for use (instruction): Bioplazmix Nasal Spray
Bioplasmix nasal spray prevents the colonization of the nasopharynx by pathogenic microflora, strengthening its own natural protective barrier, therefore it can be used for acute infectious rhinitis, allergic rhinitis, as well as after local nasal and / or systemic use of antibiotics and other drugs that can disrupt the microbiocenosis of the nasopharynx; helps to normalize the composition and balance of nasopharyngeal microflora.
How to use
Shake well before use. For the correct use of Bioplasmix nasal spray, you must remove the protective cap, install the nebulizer, carefully place the nozzle of the nebulizer and inject. Keep the bottle in a vertical position. Repeat this operation with the other nostril. Clean sprayer and fit protective cap. It is recommended to clear the nasal passages before using the product.
For children from 3 years of age and older and for adults, use 2-3 injections 3-4 times a day for 10-14 days. It is recommended to consult a doctor before use.
If symptoms persist for more than 7 days or worsen with the use of the product, you should consult your doctor.
Contraindications
Do not use for children under 3 years of age, pregnant and lactating women, people with immunodeficiency. Do not use in case of individual hypersensitivity to any component of the product.
Warnings
Flush the nebulizer after each use. It is recommended to close the cap carefully after using the product. Do not use the drug after the expiry date indicated on the package. Do not use if the package is damaged. Do not swallow. Avoid contact with eyes. Multiple use of the same vial can facilitate transmission.
Composition
1 bottle of 40 ml contains: active ingredients: bacterial component (Bacillus subtilis, Bacillus licheniformis, Bacillus amyloliquefaciens, Bacillus pumilus) - at least 1x106 CFU/ml, a complex of enzymes of bacteria of the genus Bacillus; auxiliary substances: purified water, dimethicone, phenoxyethanol, 1,2-benzisothiazolin-3-one, perfume.
Release form
Nasal spray 40 ml in a bottle with a vertical spray and a protective cap.
Storage conditions
Store in its original packaging at a temperature not exceeding 25°C out of the reach of children, protected from light and heat sources.
Manufacturer
Gelingchem GmbH & Co. KG, Otto-Hahn-Str. 6, 40721 Hilden, Germany.
Sanitary and hygienic conclusion
№12.2-18-3 / 11064 dated 19.05.2020.