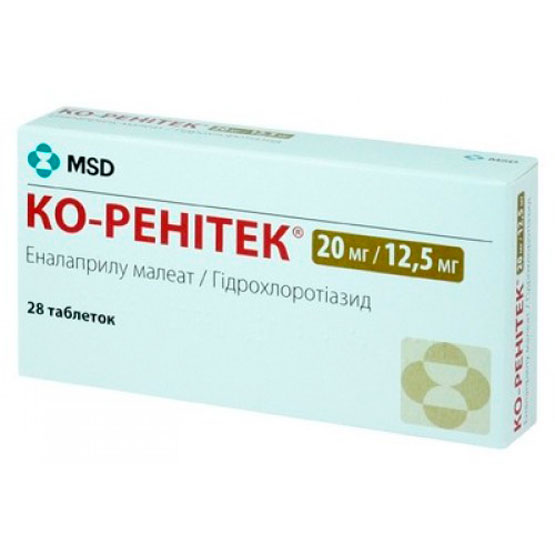 RX
Co-Renitec
Co-Renitec
Co-Renitec – tablets recommended as part of complex therapy for patients with mild to moderate pressure in the case when stabilization was achieved while taking the individual components in the same proportions. The drug also has a diuretic effect. Read more about the drug, features of use and contraindications in the instructions.
Information
Indications for use (instruction): Co-Renitec
Co-Renitec® is indicated for the treatment of mild and moderate hypertension in patients who have been stabilized with the use of individual components in the same proportions.
How to use
Mode of application
Oral administration
Dosage
The dosage of Co-Renitec® should be determined, first of all, by the experience of using enalapril maleate.
Adults
Arterial hypertension
The usual dose is one tablet once a day. If necessary, the dose can be increased to two tablets per day.
Preliminary treatment with diuretics
Symptomatic arterial hypotension may occur at the beginning of treatment with Co-Renitec®; more often arterial hypotension is observed in patients with impaired water and / or salt balance as a result of the preliminary use of diuretics. Diuretic therapy should be discontinued 2-3 days before the start of Co-Renitec®.
Dosage for impaired renal function
Thiazides may be insufficiently effective diuretics for patients with impaired renal function and are ineffective with a QC of 30 ml/min and lower (that is, with moderate or severe renal failure).
For patients with creatinine clearance in the range from> 30 to <80 ml/min, Co-Renitec® can be used only after preliminary selection of doses of each of the components.
Use for elderly patients
In clinical trials, the efficacy and tolerability of enalapril maleate and hydrochlorothiazide, which were used simultaneously, were similar in both elderly and young patients with hypertension.
Children
Safety and efficacy of the drug in children have not been established.
Contraindications
Hypersensitivity to the active substance (s) or any other component that is listed in the excipients section.
Severe renal impairment (creatinine clearance ≤30 ml/min).
Treatment-resistant hypokalemia.
Symptomatic hyperuricemia (gout).
Anuria
A history of angioedema associated with the appointment of previously ACE inhibitors.
Hereditary or idiopathic angioedema.
Hypersensitivity to drugs that are derivatives of sulfonamide.
Pregnant women or women planning to become pregnant.
Severe impairment of liver function.
Renal artery stenosis.
The simultaneous use of the drug Co-Renitec® with preparations containing aliskiren is contraindicated in patients with diabetes mellitus or with impaired renal function (GFR <60 ml/min/1.73 m2).
Co-Renitec® should not be used in combination with a neprilysin inhibitor (for example, sacubitrile). Co-Renitec® should not be used within 36 hours after switching to sacubitrile /valsartan, a drug containing an neprilizin inhibitor, or after switching from it to another drug.
Composition
Active substances: enalapril; hydrochlorothiazide;
1 tablet contains 20 mg of enalapril maleate and 12.5 mg of hydrochlorothiazide.
Excipients: sodium bicarbonate, lactose, corn starch, pregelatinized starch, yellow iron oxide (E172), magnesium stearate.
Release form
14 tablets in a blister, 2 blisters in a cardboard box.
Dosage form. Pills.
Basic physical and chemical properties: yellow, round, corrugated tablets, marked with MSD 718 on one side and a fault line on the other.
Storage conditions
Store at a temperature not exceeding 25 °C out of the reach of children.
Manufacturer
Merck Sharp & Dohme B.V., Waarderweg 39, 2031 BN Haarlem, the Netherlands.
Registration certificate
No.1772 dated 08/12/2019.
Registration Certificate No. UA/4279/01/01.
Information on medicines is intended exclusively for doctors.