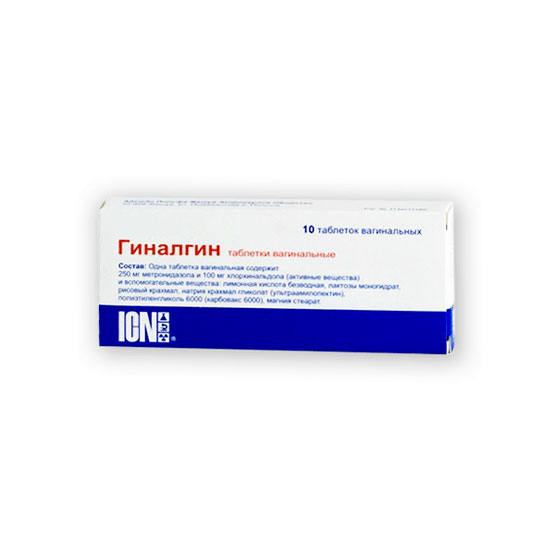 RX
Gynalgin
Gynalgin
Gynalgin is a vaginal tablet that is recommended for the infectious and inflammatory vagina diseases treatment. Components do not adversely affect the mucosa microflora. The combination of substances complements the action of each other, contributing to a speedy recovery. Read more about the drug, the features of its use, read the instructions.
Information
Indications for use (instruction): Gynalgin
Vaginal infections caused by drug-sensitive bacterial flora and protozoa (Trichomonas vaginalis).
Vaginal infections simultaneously caused by bacteria, protozoa (Trichomonas vaginalis) and fungi.
How to use
Apply deeply intravaginally 1 time per day for 1 vaginal tablet, preferably at night.
Treatment should begin from 2–4 days after the end of menstruation and continue for 10 days.
If necessary, the course of treatment can be repeated.
For elderly people and patients with impaired liver and kidney function, there is no need for dose adjustment.
Contraindications
Hypersensitivity to the drug components.
Composition
Active ingredients: metronidazolum, chlorquinaldolum;
1 tablet contains metronidazole 0.25 g and chlorchinaldol 0.1 g.
Excipients: citric acid, lactose monohydrate, rice starch, sodium starch (type C), macrogol 6000, magnesium stearate.
Release form
5 tablets per blister, 2 blisters per pack.
Dosage form. Vaginal tablets.
Basic physical and chemical properties: smooth tablets of a special elongated shape, with a surface with possible inclusions, beige, with a slight characteristic odor, embossed in the form of the letter G.
Storage conditions
Store in the original packaging at a temperature not exceeding 25 °C out of the reach of children.
Manufacturer
ICN Polfa Rzeszow S.A., 35-959 Rzeszow ul. Przemyslowa, 2, Poland.
Registration certificate
No.799 dated 04/26/2018.
Registration certificate UA/2921/01/01.
Information on medicines is intended exclusively for doctors.