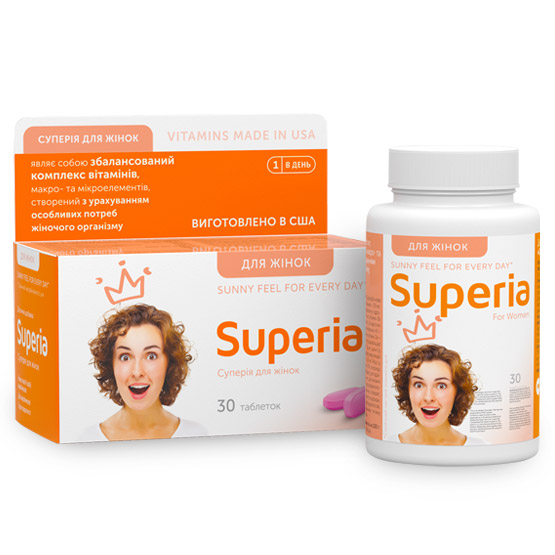 Dietary supplements
Superia for women
Superia for women
Superia for women is a vitamin complex containing essential trace elements that keep the female body in good shape. Recommended to create favorable conditions for the normal functioning of the cardiovascular, musculoskeletal and immune systems, hair skin and nails. To protect body cells from the harmful effects of negative environmental factors. For the prevention of deficiency of vitamins, micro- and macroelements.
Information
Indications for use (instruction): Superia for women
Super for women is recommended as an additional source of vitamins, macro- and microelements in order to create optimal nutritional conditions for the functioning of the female body, in particular the cardiovascular, musculoskeletal, immune systems, skin, hair and nails; protecting the body's cells from the harmful effects of negative environmental factors; prevention of vitamin, macro and micronutrient deficiencies in malnutrition, during periods of physical, mental, psycho-emotional stress and recovery from past illnesses.
How to use
To use for adults (women) on 1 tablet a day after food, washing down with enough drinking water. The course of application is 1 month. If necessary, the course can be repeated after a break of 1 month. It is recommended to consult a doctor Before use.
Do not exceed the recommended daily dose. Should not be used as a substitute for a nutritious diet.
Contraindications
Individual sensitivity to components, pregnancy and lactation.
Composition
Active ingredients: vitamin C (ascorbic acid) – 120 mg, vitamin E – 30 IU (30 mg), vitamin B3 (niacin) – 20 mg, vitamin B5 (calcium pantothenate) – 15 mg, vitamin B6 (pyridoxine hydrochloride) – 5, 4 mg, vitamin B1 (thiamine monohydrate) – 3.9 mg, vitamin B2 (riboflavin) – 3.4 mg, vitamin A – 2800 IU (848 μg), β-carotene (provitamin A) – 420 μg, folic acid – 400 µg, biotin (vitamin H) – 30 µg, vitamin K – 20 µg, vitamin B12 (cyancobalamin) – 9 µg, vitamin D3 – 300 IU (7.5 µg), calcium (in the form of calcium carbonate and dicalcium phosphate) – 500 mg, magnesium (in the form of magnesium oxide) – 50 mg, zinc (in the form of zinc oxide) – 24 mg, manganese (in the form of manganese sulfate monohydrate) – 4.2 mg, copper (in the form of copper gluconate) – 2.2 mg, iodine (in the form of potassium iodide) – 150 μg, chromium (in the form of chromium (III) hexahydrate chloride) – 150 mcg, molybdenum (in the form of sodium molybdate udihydrate) – 90 mcg, selenium (in the form of sodium selenite) – 27 mcg.
Excipients: fillers: microcrystalline cellulose, croscarmellose, hydroxypropylcellulose, stearic acid, magnesium stearate, amorphous silica; tablet shell: acetoglycerides, tween-80, hydroxypropyl methylcellulose, hydroxypropyl cellulose, polydextrose, talc, triglycerides, purified water, dyes: titanium dioxide, carmines, glazing agent: carnauba wax. Nutritious (food) and energy value (caloric content) per 100 g: proteins – 1.0 g, carbohydrates – 5.0 g, fats – 1.0 g; 33 kcal (138 kJ). Without GMO.
Release form
30 tablets per pack. Weight of 1 tablet: 2.238 g (g) ± 7.5%.
Storage conditions
Store in original packaging at a temperature of 4°C to 25°C in a dry, dark place and out of reach of children.
Manufacturer
Nutra Manufacturing, Inc., USA, 1050 Woodruff Road, Greenville, South Carolina, 29607; mob.: +1 800-289-4467
Sanitary and hygienic conclusion
No. 70 dated 16.10.2019.
Advertising dietary supplements. Not a medicine.