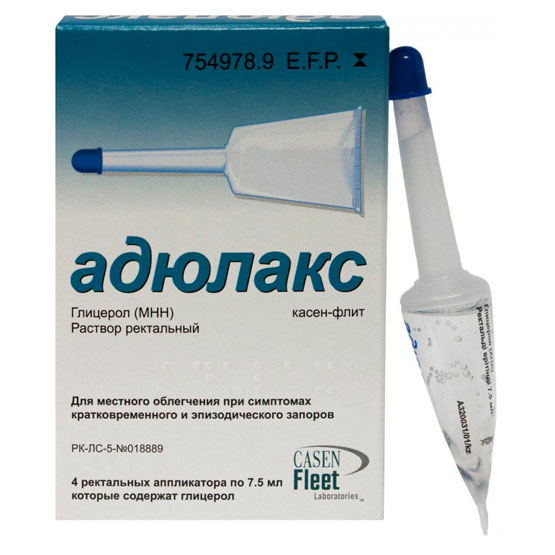 OTC
Adulax
Adulax
Adulax is an adult glycerin rectal solution that is used to relieve local short-term and episodic constipation symptoms. Glycerin in the composition has a mild effect on the skin. Read more about the drug use, features and contraindications in the instructions.
Information
Indications for use (instruction): Adulax
For local relief of short-term and episodic constipation symptoms.
How to use
The following guidelines should be followed unless otherwise directed by your doctor.
This medicine is for rectal use only.
Adults and children from the age of 12:
1 rectal applicator per day.
Elderly patients:
The same dose as for adults is recommended.
Hepatic and/or renal failure:
No dose adjustment is necessary.
You should consult your doctor if the Adulax effect seems too strong or too weak.
Method of insert
At the time of introduction, remove the cap that closes the tip of the cannula and, holding the cannula vertically up, press slightly to allow a few drops of the drug to wet the cannula tip to facilitate insertion of the applicator into the rectum. After insertion into the rectum, remove the applicator contents and, when empty, remove the applicator while still squeezing the applicator walls. Each applicator is filled with a product of excess that remains in the applicator after use. Thus, the amount released upon administration is a complete dose and there is no need to empty the applicator completely, making it easy to use.
Each applicator contains one drug dose and should be discarded after use.
If resistance is encountered during administration, it should be discontinued as it may cause injury. Therefore, before continuing, you should consult your doctor to determine the cause of the resistance.
Tratment duration
This drug should not be used for more than one week unless otherwise prescribed by your doctor.
Children.
This medicine is not for children use under 12 years of age.
Contraindications
Hypersensitivity to glycerol.
Abdominal colic, nausea, vomiting or other symptoms of appendicitis.
Hemorrhagic rectocolitis.
Diarrhea.
Anorectal diseases.
Ulcerative colitis and inflammatory hemorrhoids.
Abdominal pain.
Obstruction of the intestine.
Acute inflammatory bowel disease.
Children under 12 years.
Composition
Active ingredient: glycerol;
1 applicator (7.5 ml) contains glycerol 6.14 ml/
Excipient: purified water.
Release form
Rectal solution, 6.14 ml/7.5 ml, 7,5 ml in applicators No. 4 in a cardboard box.
Basic physicochemical properties: syrupy liquid, transparent, colorless with a characteristic odor, which does not contain any foreign inclusions.
Storage conditions
Do not store above 25 °C in a place out of the reach of children.
Manufacturer
Casen Recordati, S.L., Autovia de Logrono, km. 13,300, Utebo, Zaragoza, 50180, Spain.
Registration certificate
No. 685 dated 07/07/2016.
Registration certificate UA/10469/01/01.
Advertising of the drug. Be sure to consult your doctor and read the package leaflet before using this medicine.

This section of the site contains information about medicines, their properties, methods of use, as well as other specialized information that is intended for healthcare professionals. The information on medicines contained in this section is not a guide for self-diagnosis and / or treatment. LLC SA Pro-Pharma is not responsible for possible negative consequences arising from the independent use of information from this section. Using the information from this section, you do it yourself, understanding that: self-medication can be harmful to your health, you must read the instructions and consult a doctor before using medicines.