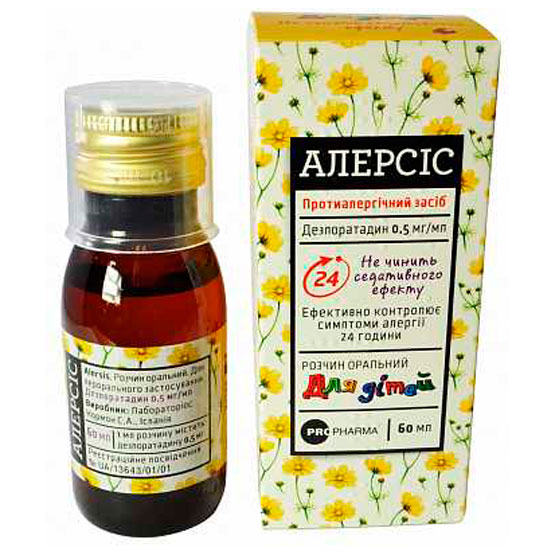 OTC
Alersis Solution
Alersis Solution
Alersis solution is an antihistamine recommended for the relief of allergy symptoms in allergic rhinitis, urticaria. The active substance does not produce a sedative effect. Read more about the Alersis syrup and application features in the instructions.
Information
Indications for use (instruction): Alersis Solution
Elimination of symptoms associated with:
allergic rhinitis (sneezing, nasal discharge, itching, swelling and nasal congestion, as well as itching and redness of the eyes, lacrimation, itching of the palate and coughing);
urticaria (itching, rash).
How to use
To eliminate the symptoms associated with allergic rhinitis (including intermittent and persistent) and urticaria, Allersis can be used regardless of the meal in the following doses:
Adults and adolescents (12 years of age): 10 ml of syrup (5 mg desloratadine) once a day.
Therapy for intermittent allergic rhinitis (symptoms less than 4 days per week or less than 4 weeks) should be performed based on anamnesis data: discontinue after symptoms disappear and resume after recurrence. With persistent allergic rhinitis (symptoms present for more than 4 days per week or more than 4 weeks), treatment should be continued throughout the allergen contact period.
Children. The effectiveness and safety of Alersis solution in children under 6 months of age have not been established. The following dosage regimen is used for treatment:
children from 6 to 11 months: 2 ml solution (1 mg desloratadine) once a day;
age from 1 to 5 years: 2.5 ml solution (1.25 mg desloratadine) once a day;
age from 6 to 11 years: 5 ml solution (2.5 mg desloratadine) once a day.
Contraindications
Hypersensitivity to desloratadine or to any of the excipients or to loratadine.
Composition
Active ingredient: desloratadine;
1 ml solution contains desloratadine 0.5 mg;
Excipients: sodium benzoate (E 211), saccharin sodium, sorbitol (E 420), propylene glycol, anhydrous citric acid, anhydrous sodium citrate, hydroxyethyl cellulose, orange flavoring, purified water.
Release form
60 ml solution in a vial together with a measuring cup in a cardboard pack.
Basic physical and chemical properties: transparent or slightly opalescent, practically colorless solution with the smell of orange.
Storage conditions
Store in the original packaging at a temperature not exceeding 25 °C. out of the reach of children.
Manufacturer
Laboratorios Normon SA, Ronda de Valdecarriso, 6, Tres Cantos, 28760 Madrid, Spain.
Registration certificate
No. 277 dated 05/15/2015.
Registration certificate UA/13643/01/01.
Advertising of the drug. Be sure to consult your doctor and read the package leaflet before using this medicine.

This section of the site contains information about medicines, their properties, methods of use, as well as other specialized information that is intended for healthcare professionals. The information on medicines contained in this section is not a guide for self-diagnosis and / or treatment. LLC SA Pro-Pharma is not responsible for possible negative consequences arising from the independent use of information from this section. Using the information from this section, you do it yourself, understanding that: self-medication can be harmful to your health, you must read the instructions and consult a doctor before using medicines.