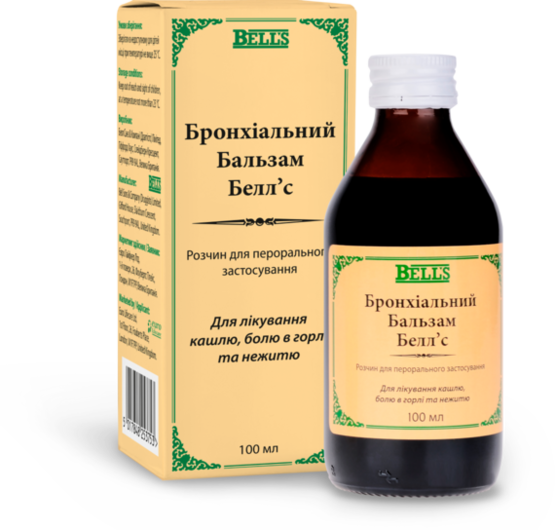 OTC
Bronchial balm Bell's
Bell's
Bells is plant-based cough balm. Eases expectoration with a wet cough, helps to relieve dry coughs, relieve sore throat and other cold symptoms. Anise oil and tincture of pepper have an antispasmodic, antibacterial and expectorant effect, menthol is an analgesic and anti-inflammatory.
Information
Indications for use (instruction): Bronchial balm Bell's
Symptomatic treatment of infectious and inflammatory diseases of the respiratory tract, accompanied by sore throat, cough, runny nose and inflammation of the mucous membranes.
How to use
Apply inside.
Adults and children over 12 years old – 2 teaspoons (10 ml) every hour or 3 teaspoons (15 ml) every 2-3 hours.
Children 6-12 years old – 1 teaspoon (5 ml) every hour or 2 teaspoons (10 ml) every 2-3 hours.
Children aged 3-6 years –1 teaspoon (5 ml) every 2:00.
Shake the bottle before use.
Do not use more than 6 doses per day. The course of treatment is 14 days.
For elderly patients prescribe the same doses as for adults.
Children.
Contraindicated for children under 3 years of age.
Contraindications
Hypersensitivity to the drug components.
Special precautions:
Use with caution to patients with diabetes mellitus, as the drug contains sucrose, glucose. Do not use in patients with fructose intolerance, glucose-sucrose, sucrose-isomaltose.
Composition
Active ingredients: menthol (levomenthol), anise oil, pepper tincture.
5 ml of solution contain: menthol (levomenthol) 1,0 mg of anise oil 0,0035 ml of tincture of pepper 0,025 ml.
Excipients: ginger oil, clove oil, peppermint oil, glycerin, glucose solution, sucrose, tragacanth, benzoic acid (E 210), caramel (E 150), benzoin tincture, toluene balm, ethanol 90%, water purified.
Release form
100 ml or 200 ml per bottle; 1 bottle in a cardboard box.
Storage conditions
Keep out of the reach of children at a temperature not exceeding 25 °C.
Manufacturer
Bell, Sons & Co (Druggists Ltd) (UK)
Registration certificate
№424 from 12.04.2017
6177/01/01
Advertising of the drug. Be sure to consult your doctor and read the package leaflet before using this medicine.

This section of the site contains information about medicines, their properties, methods of use, as well as other specialized information that is intended for healthcare professionals. The information on medicines contained in this section is not a guide for self-diagnosis and / or treatment. LLC SA Pro-Pharma is not responsible for possible negative consequences arising from the independent use of information from this section. Using the information from this section, you do it yourself, understanding that: self-medication can be harmful to your health, you must read the instructions and consult a doctor before using medicines.