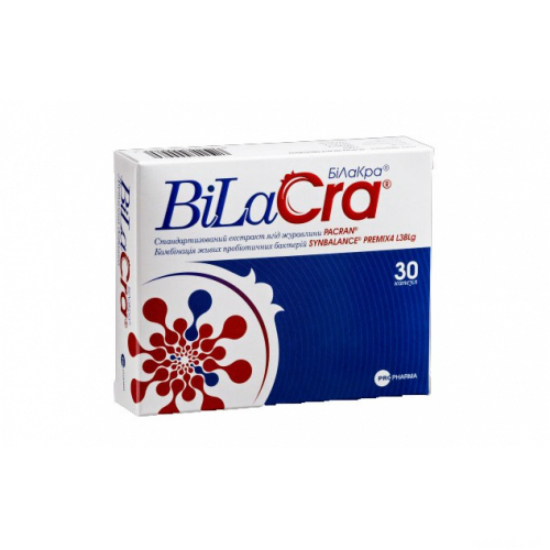 Dietary supplements
Bilacra
Bilacra
Bilacra is a dietary supplement recommended as an additional source of flavonoids, flavonols and vitamins for diseases of the urinary tract to normalize their functional state. The action of active components also prevents the development of dysbiosis, corrects violations of the gastrointestinal microflora. Read more about Bilacra in the instructions.
Information
Indications for use (instruction): Bilacra
Bilacra is recommended as an additional source of flavonoids (proanthocyanidins, epicatechins), flavonols (quercetin, myricetin), organic acids, stilbenes (resveratrol), sugars, vitamins A and C and probiotic bacteria (Lactobacillus plantarus, Lactobacillus, Lactobacillus, Lactobacillus, Lactobacillus, Lactobacillus, Lactobacillus, Lactobacillus, Lactobacillus, Lactobacillus, Lactobacillus, Acid to normalize the functional state of the urinary system in acute and chronic inflammatory diseases (including in asymptomatic bacteriuria in pregnant women) and to reduce the adhesion of microorganisms on the surface of the epithelium of the urinary tract; to correct and prevent the negative effects of antimicrobial, antifungal, antiviral and immunomodulatory therapy for urogenital infections and sexually transmitted diseases; prevention of the development of dysbacteriosis of different etiology (including bacterial vaginosis); correction of disorders of the microflora of the gastrointestinal tract that occur during hormone therapy, pregnancy, reduced immune reactivity of the body, stress, as well as in the case of living in adverse environmental conditions, during travel and diet.
How to use
For adults, take 1 capsule once a day (overnight, pre-empty the bladder). The recommended course of administration is 4–6 weeks, but may be adjusted by your doctor. If necessary, the course can be repeated. In chronic bladder diseases (including menopause) Bilacra is recommended for prophylactic use for 2 weeks, repeating the course for at least 3 months. A doctor's consultation is recommended before use.
Contraindications
Individual sensitivity to any of the components.
Composition
1 capsule contains: active ingredients: high-efficiency combination of live probiotic bacteria SYNBALANCE PREMIX4 L3BLg (Lactobacillus plantarum, Lactobacillus acidophilus, Lactobacillus rhamnosus, Bifidobacterium longum) – not less than 2 × 109 CFU/g; standardized cranberry extract (PACRAN) – 500 mg; excipients: fillers: corn starch, microcrystalline cellulose, calcium phosphate, magnesium stearate, maltodextrin; capsule shell: gelatin, dye: titanium dioxide.
Release form
Capsules weighing 655 mg +/- 7.5% in blisters packed in a carton.
Storage conditions
Store in the original package at 4 °C to 25 °C in a dry, dark place and out of the reach of children.
Manufacturer
Laboratorios Virens S.L., Spain, Industria 48-B Poligono Industrial Nord-Est 08740 Sant Andreu de la Barca, Barcelona.
Advertising dietary supplements. Not a medicine.