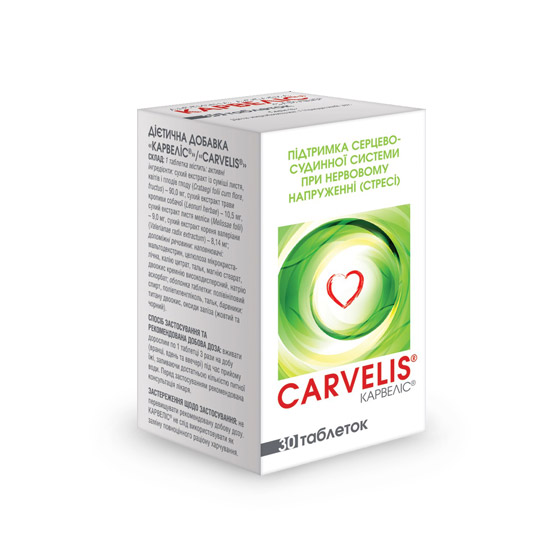 Dietary supplements
Carvelis
Carvelis
The herbal complex "Karvelis" is recommended for the purpose of normalizing the work of the cardiovascular system and improving well-being in case of increased psychoemotional stress, as well as in neuroses and arterial hypertension. The action of the constituent components helps to relieve nervous tension and anxiety, improve well-being.
Information
Indications for use (instruction): Carvelis
It is recommended for the purpose of normalizing the functional state of the cardiovascular and nervous systems with nervous psychoemotional stress (stress), neurocirculatory dystonia, neuroses, arterial hypertension and improving well-being in case of nervous excitement.
How to use
Adults take 1 tablet 3 times a day with meals. Before use, it is recommended to consult with your doctor.
Contraindications
Pregnancy and lactation, arterial hypotension, individual intolerance to the components
Composition
1 tablet contains:
active ingredients: dry extract from a mixture of fruits, leaves and flowers of hawthorn – 90 mg, dry extract of grass nettle dog – 11 mg, dry extract of lemon balm leaves – 9 mg, dry extract of valerian root – 9 mg;
excipients: maltodextrin, cellulose crystalline, potassium citrate, talc, magnesium stearate, highly dispersed silicon dioxide, sodium ascorbate;
tablet shell: polyvinyl alcohol, polyethylene glycol, talc;
dyes: titanium dioxide, iron oxides (yellow and black).
Release form
30 tablets per pack
Manufacturer
Dr. Gustav Klein GmbH & Co., Germany
Warnings
During the period of use care should be taken in performing processes that require increased concentration of attention and speed of psychomotor reactions.
Advertising dietary supplements. Not a medicine.