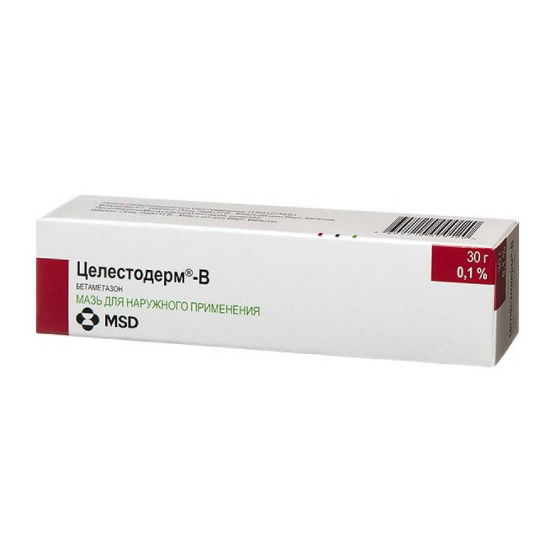 RX
Celestoderm-V
Celestoderm-V
Celestoderm-V ointment is prescribed for dermatoses sensitive to treatment with glucocorticosteroids. The active substance – betamethasone – relieves inflammation, itching and constricts blood vessels. Recommended for dermatoses and initial treatment of severe atopic eczema. Read more about Celestoderm-V in the instructions.
Information
Indications for use (instruction): Celestoderm-V
Treatment of dermatoses sensitive to potent glucocorticosteroid therapy, such as psoriasis; initial treatment of severe atopic eczema.
How to use
Celestoderm-V®, ointment, should be applied with a thin layer several times a day on the affected skin.
Application method
Apply enough Celestoderm-V® ointment with a thin layer to completely cover the affected skin area and gently rub it into the skin. With the improvement of the condition, the frequency of application can be reduced.
Avoid prolonged use of Celestoderm-V® (more than 3 months) or apply ointment to large areas (more than 20% of body surface). This applies to the treatment of more than 10% of the body surface for more than 1 week.
After improving the clinical picture, it is often recommended to use a weaker glucocorticosteroid.
The so-called tandem therapy approach is often recommended, which is to apply Celestoderm-V® ointment once a day, then after 12 hours, to a suitable topical preparation that does not contain the active ingredient.
It may also be advisable to use intermittent therapy, which is to use Celestoderm-V® ointment and a topical medication that does not contain the active ingredient, alternately within a week.
Careful monitoring of the development of signs of systemic action of the drug is recommended.
Celestoderm-V®, an ointment, is the preferred dosage form for application to dry, scaly and rough skin in chronic and subacute conditions.
Targeted antibacterial therapy should be used for dermatoses associated with bacterial infection.
Patients with dermatoses of fungal origin require special treatment.
Children
There is no clinical data on the use of the drug in children, so it is not desirable to use it in patients of this age category.
Because children have a greater surface area to body mass ratio than adults, and therefore, the absorption of the drug is more active, children are more at risk of suppression of hypothalamic-pituitary-adrenal gland (GHN) function by corticosteroids and developmental corticosteroids.
Contraindications
Celestoderm-V®, an ointment contraindicated in patients with allergic reactions to any of the components of the drug.
Celestoderm-V®, an ointment contraindicated in the following cases:
viral infections, including post-vaccination reactions and chicken pox;
viral skin infections (such as herpes simplex, shingles, chicken pox);
pink acne;
rosaceae (perioral) dermatitis;
bacterial dermatoses, including tuberculosis and skin syphilis;
fungal diseases;
ophthalmic diseases (Celestoderm-V®, an ointment not intended for ophthalmic use).
It is not recommended to use Celestoderm-V® ointment under occlusive dressings (gypsum, etc.).
Caution should be exercised when applying Celestoderm-V® ointment to the skin. Do not allow product to get into eyes or mucous membranes. Long-term treatment and / or application to large skin surfaces should be avoided as the absorption of the active substance is possible.
Celestoderm-V® ointment should not be used during the first trimester of pregnancy.
Composition
Active ingredient: betamethasone;
1 g ointment contains betamethasone 17-valerate equivalent to 1 mg betamethasone.
Excipients: Paraffin white soft, mineral oil.
Release form
15 g or 30 g in an aluminum tube. 1 tube per carton.
Storage conditions
Keep out of reach of children at a temperature not exceeding 25 °C.
Manufacturer
Schering-Plough Labo NV, Industriepark 30, Heist-op-den-Berg, 2220, Belgium.
Registration certificate
No. 1820 of 08/16/2019
Registration Certificate No. UA/9500/01/02
Information on medicines is intended exclusively for doctors.