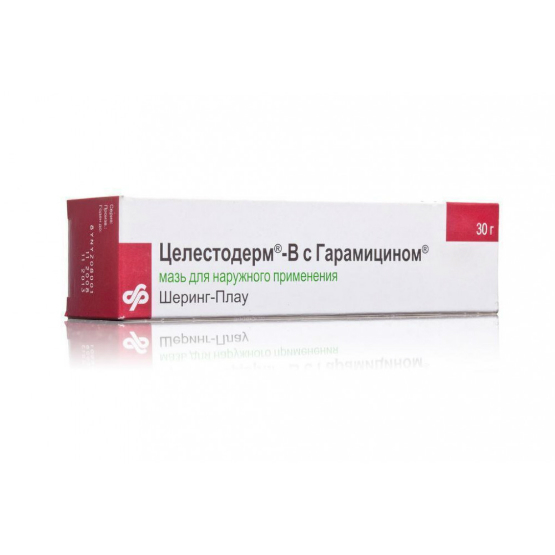 RX
Celestoderm-V with garamycin ointment
Celestoderm-V with garamycin ointment
Celestoderm-V ointment with Garamycin is prescribed for dermatoses, which can be treated with glucocorticosteroids. The action of the active components relieves itching, inflammation and constricts blood vessels. You can read about the clinical characteristics of Celestoderm-B ointment with Garamycin in the instructions.
Information
Indications for use (instruction): Celestoderm-V with garamycin ointment
Dermatoses treated with glucocorticosteroids, complications or suspected complications of secondary infection caused by gentamicin-sensitive microorganisms: eczema (atopic, infantile, coin-forming), neurite, dermatitis, exfoliative dermatitis, stasis-dermatitis and psoriasis.
How to use
Apply a thin layer of ointment to the entire affected area of ​​skin 2 times a day - in the morning and evening.
The frequency of application of the drug is determined by the doctor individually, depending on the severity of the disease. In mild cases, applied once a day, with more severe lesions may need more frequent use.
The duration of treatment depends on the size and localization of the disease, as well as the patient's response to treatment. However, if clinical improvement is not observed within 3 to 4 weeks, the diagnosis should be reviewed.
Children
There is no clinical data on the use of the drug in children, so it is not desirable to use it in patients of this age category.
Because the ratio of surface area to body weight is greater in children than in adults, more active absorption of the drug is observed. Therefore, children are more likely to develop suppression of hypothalamic-pituitary-adrenal (GDN) function due to the use of corticosteroids and the development of exogenous effects of corticosteroids.
In children receiving corticosteroids for topical use, there was an inhibition of adrenal function, Cushing's syndrome, growth retardation, insufficient weight gain, and increased intracranial pressure.
Manifestations of adrenal cortex suppression: low blood plasma cortisol and no response to adrenal stimulation test with adrenocorticotropic hormone (ACTH) drugs. Increased intracranial pressure is manifested by bulging of the thyme, headache, bilateral edema of the optic disc.
Contraindications
The drug is contraindicated in patients with hypersensitivity to the active substances or to any other component of the drug.
The drug is contraindicated in skin tuberculosis, skin manifestations of syphilis, skin reactions after vaccination, common plaque psoriasis, varicose veins, perioral dermatitis, pink acne, varicella and viral infections, other bacterial bacterial infections and other bacterial bacterial infections.
Composition
Active Ingredients: betamethasone, gentamycin;
1 g of ointment contains 1 mg betamethasone (in the form of 17-valerate) and 1 mg of gentamicin (in the form of sulfate).
Excipients: mineral oil, white paraffin.
Release form
30 g in tubes. 1 tube per carton.
Storage conditions
Keep out of reach of children at a temperature not exceeding 25 °C.
Manufacturer
Schering-Plough Labo NV, Industriepark 30, Heist-op-den-Berg, 2220, Belgium.
Registration certificate
No1438 on 06/24/2019
Registration Certificate No. UA/3403/02/01
Information on medicines is intended exclusively for doctors.