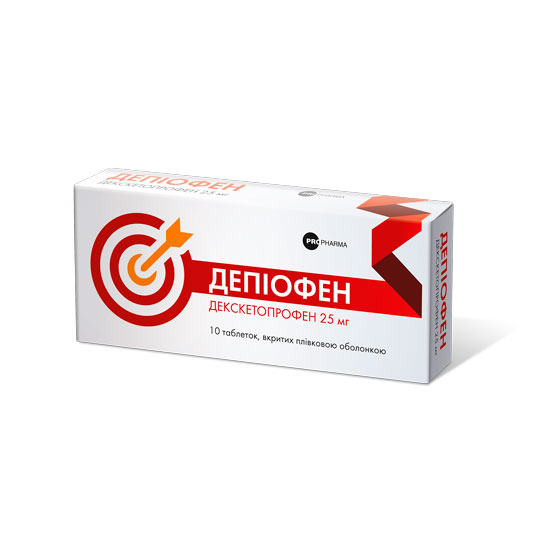 RX
Depiofen Tablets
Depiofen Tablets
Depiofen (tablets) is an anti-inflammatory and anti-rheumatic drug that is used to treat mild to moderate pain symptoms. It is recommended for musculoskeletal pain, dysmenorrhea, toothache, etc. Read more about the indications and methods of use in the instructions.
Information
Indications for use (instruction): Depiofen Tablets
Symptomatic treatment of mild to moderate pain, such as musculoskeletal pain, menstrual pain (dysmenorrhea), toothache, etc.
How to use
Adults. Depending on the type and intensity of pain, the recommended dose is 12.5 mg every 4–6 hours or 25 mg every 8 hours. The daily dose should not exceed 75 mg. The side effects of the drug can be minimized by administering minimally effective doses within the shortest possible time necessary to eliminate the symptoms. Depiofen is not intended for long-term therapy; treatment should be limited in time by symptoms. Simultaneous ingestion reduces the absorption rate of the active substance, so it is recommended that it be taken at least 30 minutes before ingestion.
Elderly patients. It is recommended to start treatment with low doses. The daily dose is 50 mg. With good tolerability, the dose can be increased to normal.
Impairment of liver function of mild and moderate severity. Treatment should be started with the minimum recommended dose and under the close supervision of a physician. The daily dose is 50 mg.
Renal impairment of mild severity. The daily dose is 50 mg.
Children. The use of the drug has not been studied in children, so patients of this age group are not recommended to use dexketoprofen.
Contraindications
Hypersensitivity to dexketoprofen or other non-steroidal anti-inflammatory drugs (NSAIDs) or to excipients.
If substances with a similar mechanism of action, such as acetylsalicylic acid and other NSAIDs, cause attacks of bronchial asthma, bronchospasm, acute rhinitis or lead to the development of nasal polyps, urticaria, or angioedema.
bronchial asthma;
fresh peptic ulcerations/bleeding in the digestive tract or suspected presence, as well as recurrent peptic ulcers/bleeding in the digestive tract (two or more unrelated episodes to confirm this) or chronic history of dyspepsia;
gastrointestinal bleeding or perforation associated with the use of NSAIDs;
bleeding in the digestive tract, other active bleeding and with disorders of the blood coagulation system;
Crohn's disease or non-specific ulcerative colitis;
severe heart failure;
moderate or severe renal impairment;
severe liver function disorders;
hemorrhagic diathesis or other coagulation disorders;
3rd trimester of pregnancy or breastfeeding.
Composition
Active ingredient: dexketoprofen trometamol;
1 tablet contains dexketoprofen trometamol equivalent to dexketoprofen 25 mg.
Excipients: corn starch, microcrystalline cellulose, sodium starch glycolate (type A), anhydrous colloidal anhydrous dioxide, magnesium stearate.
Tablet shell: titanium dioxide (E 171), hypromellose, polyethylene glycol 6000, talc.
Release form
10 tablets in a blister, 1 blister in a carton.
Storage conditions
Store at a temperature not exceeding 30 °C in the original packaging to protect from light. Keep out of the reach of children.
Manufacturer
Laboratorios Normon SA, Ronda de Valdecarriso, 6, Tres Cantos, 28760, Madrid, Spain.
Registration certificate
No 294 dated 04/30/14
Registration Certificate No. UA/13589/01/01
Information on medicines is intended exclusively for doctors.