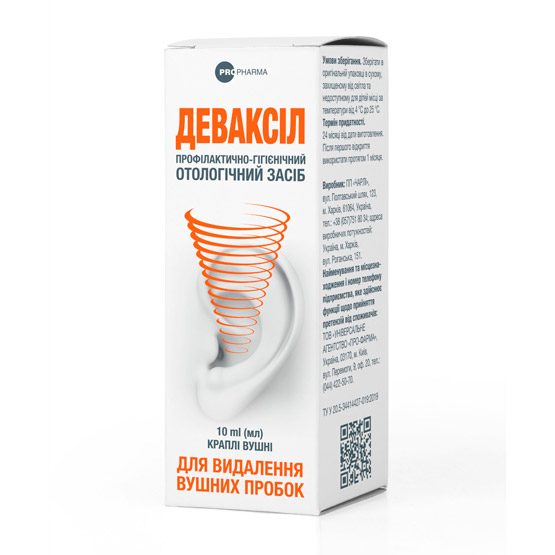 Pediatrics
Devaksil
Devaksil
Ear drops "Devaxil" will help in the removal of sulfur plugs. Suitable for use at home and before rinsing the ear canal. The components of the composition contribute to the rapid dissolution and removal of sulfur plugs. In addition, the product has an antiseptic effect, soothes irritated skin. Also, Devaxil can be used as a prevention of ear plugs. Drops are especially recommended for people who wear a hearing aid, often use headphones, engage in water sports, with complaints of itching and a feeling of stuffiness in the ear canal.
Information
Indications for use (instruction)
The prophylactic and hygienic otological agent Devaxil can be used to dissolve sulfur plugs and prevent their formation as a result of accumulation of earwax and regular ear hygiene. This is especially important in such cases:
if a person uses a hearing aid;
after staying in places where there is a lot of dust and high humidity;
if a person often uses a headset;
after water sports;
with a feeling of stuffiness in the ear canal;
complaints of itching;
redness and other unpleasant sensations in the external auditory canal.
How to use
To maintain good hygiene, wash your hands. Before use, the bottle must be held in your hands so that the product warms up.
To remove ear plugs: at least 2 to 4 drops in each ear canal 2-3 times a day for 3-4 days.
To prevent the accumulation of excess earwax: 2–4 drops in each ear canal twice a month. Repeated use is possible after consultation with a doctor.
Contraindications
Hypersensitivity to any component, age up to 3 years, purulent otitis media, perforation of the eardrum, pregnancy and lactation.
Composition
Distilled water, glycerin, sodium salicylate, PEG-40 hydrogenated castor oil, boric acid, hydrogen peroxide.
Release form
Bottle, 10 ml.
Manufacturer
PE "Charlie", st. Poltava Way, 123, Kharkov, 61064, Ukraine. Address of production facilities: Ukraine,. Kharkov, st. Roganskaya, 151.
Sanitary and hygienic conclusion
TU U 20.5-34414427-019: 2019
Materials related to product