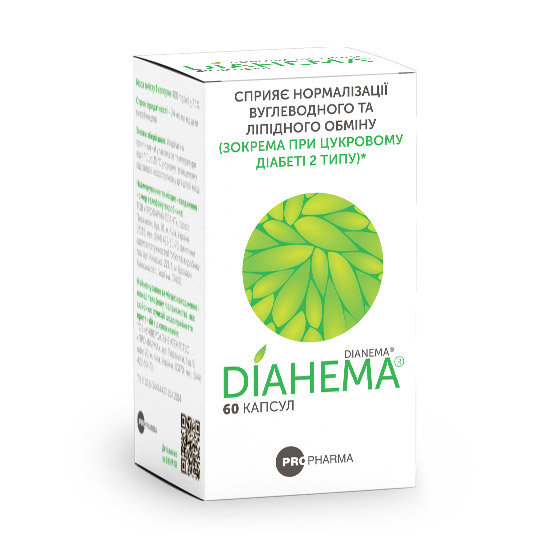 Endocrinology
Dianema
Dianema
Dianema is a biocomplex recommended for maintaining the normal functioning of the body in type 2 diabetes. Extract of Gymnema in the composition helps to normalize carbohydrate and lipid metabolism, as well as blood sugar levels. Fenugreek has an antioxidant and anti-inflammatory effect, reduces the level of "bad" cholesterol. Reception of a biocomplex promotes the elimination of toxins from the blood, therapy and prevention of type 2 diabetes.
Information
Indications for use (instruction)
It is recommended as a dietary supplement to the diet as an additional source of biologically active substances (triterpene saponins, flavonoids, organic acids, tannins) and magnesium citrate in order to normalize carbohydrate and lipid metabolism (in particular, diabetes mellitus type 2), promoting weight loss body, maintain the functional state of the cardiovascular system, improve memory and blood circulation, increase endurance and improve the overall condition of the body. It is not a drug.
How to use
To use adults 1 capsule 2 times a day (morning and evening) 30 minutes before meals, drinking plenty of drinking water. The course of application is determined by the doctor individually. Usually the course of application is at least 3 months. Before use, it is recommended to consult a doctor. It is advisable to use until six o'clock in the evening.
Contraindications
Individual sensitivity to the components, pregnancy and lactation, hypermagnesia.
Composition
1 capsule contains:
active ingredients: Gymnema sylvestre leaves extract (Gymnema sylvestre) - 100.0 mg, extract from a mixture of leaves, flowers and fruits of common hawthorn (Crataegus laevigata) - 100.0 mg, anhydrous magnesium citrate - 100.0 mg, fenugreek seed extract (Trigonélla foénum-graécum) - 50.0 mg, extract of Asian thyrist (Gotu Cola) herb (Centella asiatica) - 50.0 mg;
capsule shell: gelatin, titanium dioxide dye.
Release form
60 capsules per pack
Storage conditions
In the original packaging at a temperature of 4°C to 25°C in a dry, dark place and out of reach of children.