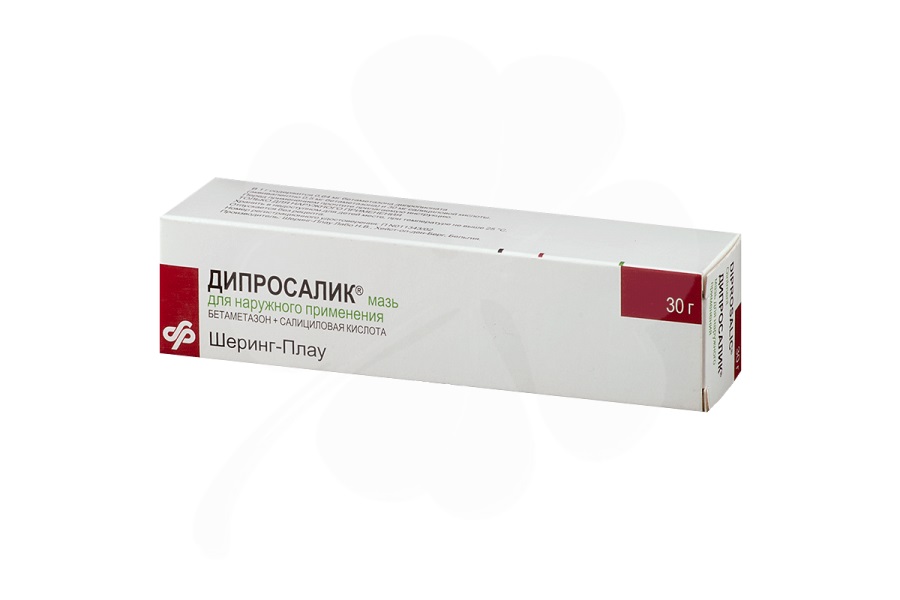 RX
Diprosalic ointment
Diprosalic
Diprosalic is a remedy with proven clinical efficacy in combating skin disorders associated with nervous system dysfunction. Diprosalic ointment is used against psoriasis, seborrheic dermatitis, ichthyotic skin lesions, eczema, lichen, and eczematous dermatitis.
Information
Indications for use (instruction): Diprosalic ointment
Topical treatment of dermatoses sensitive to corticosteroids, such as: chronic, erythematous or hyperkeratotic psoriasis and other dermatoses of an erythematous-squamous nature, such as seborrheic dermatitis (eczema), dry eczema in the desquamative phase, lichenification.
How to use
The ointment is applied with a thin layer on the affected area 2 times a day, in the morning and in the evening, and allow to penetrate the skin, which is also easy to massage. For some patients, a single daily application may be sufficient to achieve a satisfactory result.
The maximum daily dose should be gradually reduced to as little as possible to control the symptoms.
Contraindications
The drug is contraindicated in patients with hypersensitivity to active substances or to any other component of the drug.
Also, the drug is contraindicated in bacterial and viral infections, such as syphilitic and tuberculous skin lesions; post-vaccination reactions, smallpox, chickenpox, herpes simplex, herpes zoster, perioral dermatitis, perianal pruritus and genital pruritus, common plaque psoriasis, varicose veins, diaper dermatitis, molluscum contagiosum, dermatomycosis, rosacea fungi, rosacea fungi, rosacea fungi, dermatomycosis, rosacea, fungal infections.
Composition
Active substances: betamethasone, salicylic acid;
1 g of ointment contains 0.64 mg betamethasone dipropionate, which is equivalent to 0.5 mg betamethasone, and salicylic acid 30.0 mg.
Excipients: mineral oil, white soft paraffin.
Release form
Ointment.
Basic physical and chemical properties: homogeneous ointment of soft consistency, almost white in color, without extraneous inclusions.
Packaging.
30 g in tubes. 1 tube per carton.
Storage conditions
Keep out of reach of children at a temperature not exceeding 25 °C.
Manufacturer
Schering-Plough Labo NV, Belgium.
Registration certificate
№1772 dated 08/12/2019.
Information on medicines is intended exclusively for doctors.