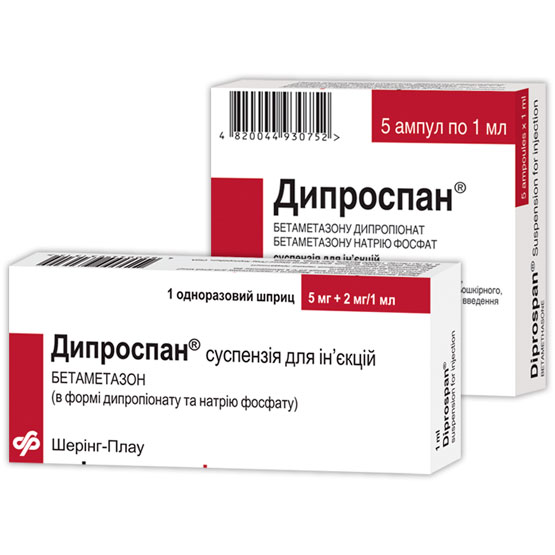 RX
Diprospan
Diprospan
Diprospan is available as a suspension for injection and is recommended in cases where treatment with glucocorticosteroids does not bring the desired therapeutic result. It is used for pathologies that are accompanied by a pain syndrome that is inflammatory in nature. The drug components provide a high rate of onset of the effect and the duration of its action in the body. Diprospan has a more powerful effect compared to other prolonged-acting GC drugs.
Information
Indications for use (instruction): Diprospan
Corticosteroid therapy is an adjunct rather than an alternative to conventional treatment.
Dermatological diseases
Atopic dermatitis (coin-shaped eczema), neurodermatitis, contact dermatitis, severe solar dermatitis, urticaria, lichen planus, insulin lipodystrophy, alopecia areata, discoid lupus erythematosus, psoriasis, keloid scars, common pemphigus, herpetic dermatitis, cystic dermatitis.
Rheumatic diseases
Rheumatoid arthritis, osteoarthritis, bursitis, tendosynovitis, tendonitis, peritendinitis, ankylosing spondylitis, epicondylitis, radiculitis, coccidinia, sciatica, lumbago, torticollis, ganglion cyst, exostosis, fasciitis, acute gouty gland disease, cubic arthritis, cystic inflammatory disease feet, bursitis on the background of hard callus, spurs, stiffness of the big toe.
Allergic conditions
Bronchial asthma, asthmatic status, hay fever, severe allergic bronchitis, seasonal and aperiodic allergic rhinitis, angioedema, contact dermatitis, atopic dermatitis, serum sickness, hypersensitivity reactions to medications or insect bites.
Collagen diseases
Systemic lupus erythematosus, scleroderma, dermatomyositis, periarteritis nodosa.
Oncological diseases
Palliative therapy of leukemia and lymphomas in adults; acute leukemia in children.
Other diseases
Adrenogenital syndrome, ulcerative colitis, Crohn's disease, sprue, pathological blood changes requiring corticosteroid therapy, nephritis, nephrotic syndrome.
Primary and secondary insufficiency of the adrenal cortex (with the mandatory simultaneous administration of mineralocorticoids).
How to use
Shake before use.
The dosage regimen is set individually, depending on the indications, the severity of the disease and the patient's clinical response to treatment.
Dosage
The dose should be minimal and the application period as short as possible.
The initial dose should be selected to obtain a satisfactory clinical effect. If a satisfactory clinical effect is not detected within a certain period of time, treatment with the drug should be discontinued by progressive dose reduction and other appropriate therapy.
In the case of a favorable response, the appropriate dose to be observed should be determined, gradually reducing the initial dose at acceptable intervals until the lowest dose with the appropriate clinical response is reached.
How to use
Diprospan suspension is not intended for intravenous or subcutaneous administration.
System use
With systemic administration, in most cases, treatment is started with the introduction of 1-2 ml of the drug and repeated if necessary. The dosage and frequency of administration depend on the severity of the patient's condition and response to treatment. The drug is injected deep into the buttock:
In severe conditions (systemic lupus erythematosus and asthmatic status) requiring emergency measures, the initial dose of the drug may be 2 ml.
For various dermatological diseases, usually 1 ml of the drug, administered intramuscularly, is sufficient; administration of the drug can be repeated, depending on the response to treatment.
For respiratory diseases, relief of symptoms is achieved within hours after intramuscular injection of Diprospan. In bronchial asthma, fever, allergic bronchitis and allergic rhinitis, a significant improvement is achieved after administration of 1-2 ml of the drug.
For acute and chronic bursitis, the dose for intramuscular injection is 1-2 ml. If necessary, conduct several repeated injections.
Local use
The concomitant use of a topical anesthetic is only necessary in a few cases (injection is almost painless). If concomitant administration of anesthetic substance is desired, Diprospan can be mixed (in a syringe, not in a vial) with a 1% or 2% solution of lidocaine hydrochloride or procaine hydrochloride, or similar local anesthetics, using paraben-free dosage forms. Anesthetics containing methyl paraben, propyl paraben, phenol and other similar substances are not allowed. When used in combination with Diprospan, the anesthetic is first injected into the syringe of the vial with the required dose of drug, then the same amount of local anesthetic is injected into the syringe and the syringe shaken for a short period of time.
For acute bursitis (sub-elbow, subclavicular, elbow, and anterolateral), the administration of 1-2 ml Diprospan in the synovial bag relieves pain and completely restores mobility in a few hours.
Treatment of chronic bursitis is carried out with smaller doses of the drug after relief of acute symptoms of the disease.
In acute tendosynovitis, tendinitis, and peritendinitis, a single injection of Diprospan may alleviate the patient's condition;
In rheumatoid arthritis and osteoarthritis, intra-articular injection of 0.5–2 ml may reduce pain, tenderness, and joint stiffness within 2–4 hours after administration. The duration of therapeutic action of the drug varies greatly and may be 4 weeks or more. The intra-articular administration of Diprospan® is well tolerated by the joint and the articular tissues.
Recommended doses of the drug for the introduction into large joints (such as knee, hip) – 1-2 ml; on average (for example, elbow) – 0.5-1 ml; in small (for example, carpal) – 0.25-0.5 ml.
In the case of dermatological diseases, intradermal injection of the drug directly into the lesion is effective. The reaction of some lesions that are not directly treated may be due to a small systemic effect of the drug. 0.2 ml/cm2 of Diprospan is injected into the skin (not under the skin) with a tuberculin syringe and a needle of 26 G. The total amount of the drug to be injected should not exceed 1 ml.
Diseases of the feet sensitive to corticosteroids. You can overcome bursitis under the corns by two successive injections of 0.25 ml each. In diseases such as big toe tightness (flexion of the big toe), varus of thumb (deviation of the fifth toe) and acute gouty arthritis, relief can come very quickly. For most injections, a tuberculin syringe with a 25 G needle of 1.9 cm length is suitable for the foot.
Recommended doses of Diprospan (at intervals of about 1 week): with bursitis under the corns – 0.25-0.5 ml; at the heel spur – 0.5 ml; when the thumb mobility – 0.5 ml; with varus small toe – 0.5 ml; with synovial cyst – 0.25-0.5 ml; at metatarsalgia of Morton – 0,25-0,5 ml; at tendosinoviitis – 0,5 ml; at inflammation of a cuboid bone – 0,5 ml; in acute gouty arthritis – 0.5-1 ml.
Contraindications
Hypersensitivity to the active substances or to any of the excipients in the preparation.
Hypersensitivity to corticosteroids.
Systemic fungal infections.
Intramuscular administration to patients with idiopathic thrombocytopenic purpura.
Composition
Active ingredient: betamethasone;
1 ml suspension contains 6.43 mg betamethasone dipropionate (equivalent to 5 mg betamethasone) and 2.63 mg betamethasone sodium phosphate (equivalent to 2 mg betamethasone).
Excipients:
sodium hydrophosphate, dihydrate; sodium chloride; disodium edetate; polysorbate 80; benzyl alcohol; methyl parahydroxybenzoate (E 218); propyl parahydroxybenzoate (E 216); sodium carboxymethylcellulose; macrogols; hydrochloric acid; water for injection;
sodium hydrophosphate anhydrous; sodium chloride; disodium edetate; polysorbate 80; benzyl alcohol; methyl parahydroxybenzoate (E 218); propyl parahydroxybenzoate (E 216); sodium carboxymethylcellulose; macrogols; hydrochloric acid; water for injection.
Release form
For ampoules: 1 ml in glass ampoules, 5 ampoules in a cardboard box.
For pre-filled syringes: 1 ml each suspension in a disposable syringe made of clear glass with a graduated scale with a capacity of 2 ml. The syringe is corked on one side with a rubber cap that can be removed, and on the other with a plastic piston with a screw cap. 1 syringe complete with 1 or 2 sterile needles in an individual sterile package in a transparent plastic container covered by a paper membrane. 1 container in a cardboard box.
Storage conditions
Keep out of the reach of children. Store at a temperature not exceeding 25 °C in a dark place, do not freeze. Shake well before use.
Manufacturer
For ampoules:
Schering-Plow Labo NV, Industriepark 30, Heist-op-den-Berg, 2220, Belgium.
For pre-filled syringes:
CENEXI HSC - HEROUVILLE SAINT CLAIR, 2 rue Louis Pasteur, Herouville Saint Clair, 14200, France
Registration certificate
No 1979 dated 10/31/2019.
Registration Certificate No. UA / 9168/01/01.
Information on medicines is intended exclusively for doctors.