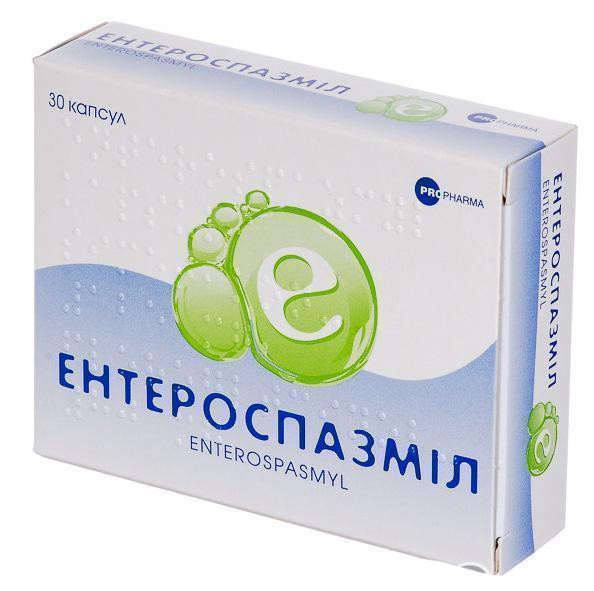 OTC
Enterospasmyl
Enterospasmyl
Enterospasmil – capsules recommended for functional digestive system disorders, such as colitis, gastritis, irritable bowel syndrome, functional diarrhea. It is also used to prevent the accumulation of gases before examinations of the abdominal cavity and pelvic organs. Read more about the drug, dosage and application features in the instructions.
Information
Indications for use (instruction): Enterospasmyl
Smooth muscle cramps, including those accompanied by pain of varying intensity, and flatulence of various etiologies: bloating in functional gastrointestinal diseases, dyspepsia, aerophagy, Remkheld's syndrome, postoperative period, gastritis, cardio and / or pylorospasm, enteritis, colitis functional diarrhea, spastic colitis with constipation, irritable bowel syndrome, cholecystolithiasis, cholangiolithiasis, cholecystitis, pericholecystitis, cholangitis, papillitis; diseases of the urinary tract and gynecological diseases, accompanied by smooth muscle spasms and flatulence.
As an aid to x-ray, ultrasound and instrumental examination of the abdominal cavity and small pelvis.
How to use
The drug should be taken before meals, and if necessary, when painful sensations appear, washed down with a small amount of water. The duration of treatment is determined individually and depends on the presence and duration of the symptoms of the disease.
Children aged 6 to 12 years take 1 capsule 3 times a day.
Adults and children over 12 years of age: for functional gastrointestinal diseases, for diseases of the biliary tract, for diseases of the urinary tract and gynecological diseases - 2 capsules 3 times a day.
To prepare for x-ray and / or ultrasound examinations, it is recommended to take 1 capsule 2 times a day and 1 capsule in the morning on the day of the study one day before the study.
The maximum daily dose is 6 capsules, corresponding to 480 mg of phloroglucinol dihydrate and 750 mg of simethicone.
Children. The drug is used for children over the age of 6 years.
Contraindications
Hypersensitivity to phloroglucinol dihydrate, simethicone or other components of the drug.
Intestinal obstruction, obstructive conditions of the gastrointestinal tract.
Composition
Active ingredients: 1 capsule contains phloroglucinol dihydrate 80 mg, simethicone 125 mg
Excipients: colloidal silicon dioxide, talc, microcrystalline cellulose, calcium hydrogen phosphate, gelatin, sulfur dioxide (E 220), titanium dioxide (E 171).
Release form
Packaging. 15 capsules in a blister, 1 or 2 blisters in a cardboard box.
Dosage form. Capsules
Basic physical and chemical properties: white matte capsules, size 0, containing white powder.
Storage conditions
Store at a temperature not exceeding 25 ° C out of the reach of children. Do not freeze!
Manufacturer
Alfasigma S.p.A., Via Enrico Fermi, 1, Alanna, 65020, Italy.
Registration certificate
No. 297 dated 02/05/2019.
Registration Certificate No. UA/11345/01/01.
Advertising of the drug. Be sure to consult your doctor and read the package leaflet before using this medicine.

This section of the site contains information about medicines, their properties, methods of use, as well as other specialized information that is intended for healthcare professionals. The information on medicines contained in this section is not a guide for self-diagnosis and / or treatment. LLC SA Pro-Pharma is not responsible for possible negative consequences arising from the independent use of information from this section. Using the information from this section, you do it yourself, understanding that: self-medication can be harmful to your health, you must read the instructions and consult a doctor before using medicines.