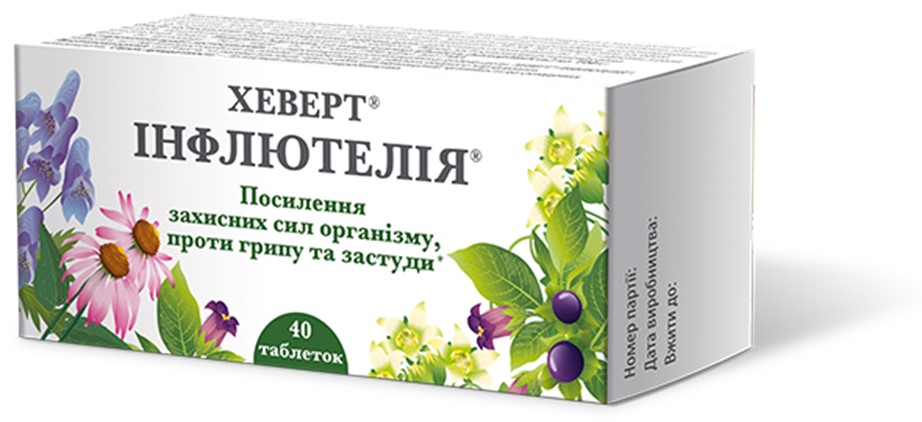 Pediatrics
Hevert Inflyuteliya
Hevert Inflyuteliya
Hevert Influtelia is a herbal supplement recommended for strengthening the body's defenses, preventing colds and flu. Herbal composition of 8 extracts. The tablets do not contain alcohol and dissolve easily in water.
Information
Indications for use (instruction): Hevert Inflyuteliya
It is recommended as a dietary supplement to the diet, as an additional source of biologically active substances in order to enhance the body's defenses, prevent colds, and flu. Components of dietary supplements recommended for use in doses similar to homeopathic dilution OX-8X. Homeopathic product. It is not a drug.
How to use
For adults – dissolve 1-2 tablets 3 times a day. The maximum daily dose is 12 tablets. A doctor's consultation is recommended before use.
Contraindications
Pregnancy and lactation, hypersensitivity to the components.
Composition
1 tablet contains: Aconitum napellus D6 5 mg, Ammonium bromatum D4 1 mg, Atropa belladonna D6 2 mg, Bryonia alba D6 2 mg, Cinchona officinalis D6 10 mg, Echinacea purpurea D3 17,91 mg, Mercurius cyanatus D8 0,1 mg, Rhus toxicodendron D6 10 mg.
Nutritional (food) and value (caloric content) per 100 g: proteins - 0 g, carbohydrates - 94.6 g, fats - 0 g 355 kcal (1486 kJ).
Without GMO.
Release form
40 tablets per pack
Manufacturer
Hevert-Artsnaymittel GmbH & Co. KG (Hevert-Arzneimittel GmbH & Co.KG), In der Weikhervise 1, 55569 Nussbaum, Germany.
Sanitary and hygienic conclusion
28/1229 of 04/06/2017
Warnings
Do not exceed the recommended daily dose. Should not be used as a replacement for a full and balanced diet.

This section of the site contains information about medicines, their properties, methods of use, as well as other specialized information that is intended for healthcare professionals. The information on medicines contained in this section is not a guide for self-diagnosis and / or treatment. LLC SA Pro-Pharma is not responsible for possible negative consequences arising from the independent use of information from this section. Using the information from this section, you do it yourself, understanding that: self-medication can be harmful to your health, you must read the instructions and consult a doctor before using medicines.