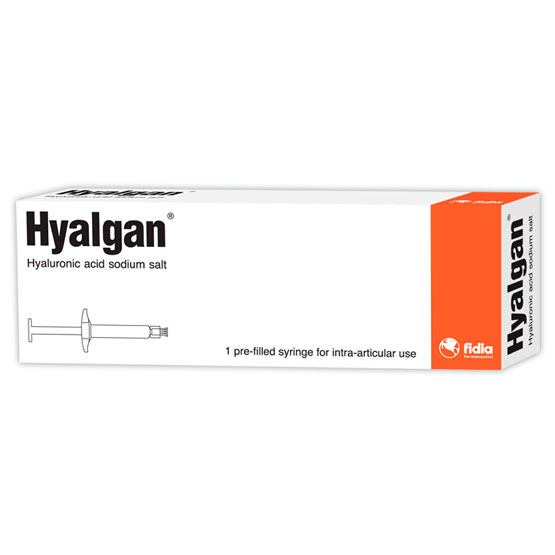 RX
Hyalgan
Hyalgan
Hyalgan is an injection solution that is recommended for use in musculoskeletal system pathology, in particular for mild to moderate knee joint arthritis. Hyaluronic acid has an astringent effect on the synovial fluid, which improves joint mobility and relieves pain. The use of hyalgan eliminates inflammatory processes in the joint epithelium and stimulates the formation of hyaluronic acid inside it.
Information
Indications for use (instruction): Hyalgan
Arthritis of the knee joints of mild to moderate severity.
Features of application.
It is not recommended to use disinfectants containing quaternary ammonium salts, since sludge may form on contact with hyaluronic acid.
Intra-articular injection should be performed by competent health care providers in accordance with the established procedure under the aseptic conditions required for this method of administration.
Before performing intra-articular injection, the patient should be examined for signs of acute inflammation. In the presence of such signs, the doctor should evaluate the feasibility of the injection.
Some patients with inflammatory arthritis (rheumatoid arthritis or gouty arthritis) have experienced a transient increase in inflammation after drug injection.
In the presence of joint effusion, it is recommended to perform aspiration before administration of Hyalgan.
It is recommended not to overload the joint for several hours after injection.
Use during pregnancy or breastfeeding. Although no embryonic toxicity or teratogenic effects were observed in animal experiments, the use of the drug to pregnant and breastfeeding mothers should be restricted, except when absolutely necessary by the physician, and only after careful assessment risk/benefit.
The ability to influence the speed of the reaction when driving vehicles or other mechanisms. Does not affect.
How to use
Adults assign hyalgan 2 ml (20 mg) by intra-articular injection one time per week for 5 weeks. Do not prescribe to children.
Contraindications
Hypersensitivity to the drug components. Allergy to poultry protein. Severe impairment of liver function.
Intra-articular injections are contraindicated in case of existing infection or skin diseases of the injection zone in order to reduce the potential development of septic arthritis.
Composition
Active ingredient: hyaluronic acid; 2 ml of solution contain 20 mg of sodium salt of hyaluronic acid.
Excipients: sodium chloride, sodium dihydrogen phosphate, dihydrate, sodium phosphate, dodecahydrate, water for injection.
Release form
2 ml in a glass bottle; 1 bottle per carton.
2 ml in a pre-filled glass syringe; 1 syringe per box.
Storage conditions
Store in the original package, out of the reach of children, at a temperature not exceeding 25 °C.
Manufacturer
Fidia Pharmaceuticals SA, Via Ponte della Fabrica, 3/A, 35031 Abano Terme (PD), Italy.
Registration certificate
No 437 dated 06/27/14.
Registration Certificate No. UA/1032/01/01.
Information on medicines is intended exclusively for doctors.