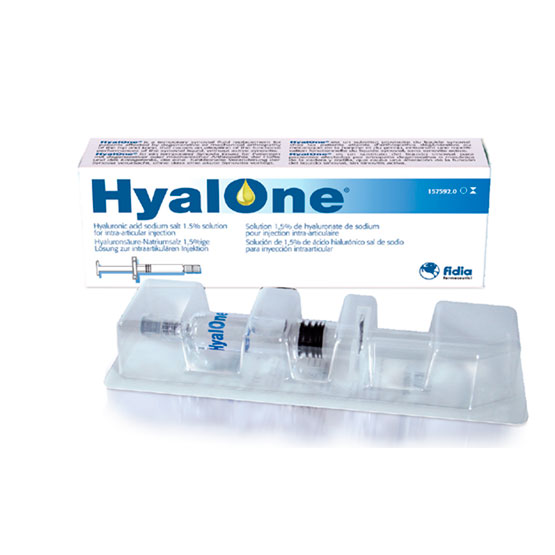 Medical devices
HyalOne
HyalOne
Solution for intraarticular injection HyalOne based on high molecular weight hyaluronic acid. This is a temporary substitute for synovial fluid. Recommended for osteoarthritis of the knee and hip joints. Solution in a syringe for single use. Read more about the drug, the features of the application, read the instructions.
Information
Indications for use (instruction): HyalOne
HyalOne is a temporary synovial fluid substitute for patients suffering from degenerative or traumatic arthropathy of the hip and knee joints, which entails a change in the functional characteristics of the synovial fluid, without active synovitis.
How to use
The introduction of the product should be carried out exclusively by a qualified doctor. All rules regarding aseptic and injection techniques must be followed. Before the introduction, eliminate all the discharge of the joint, if any.
Additional courses of treatment after the first application may be required in order to maintain the benefits of treatment for a long time, depending on the individual needs of the patient.
Inject HyalOne using an appropriate sterile 18 G or 20 G needle.
If HyalOne is used for the hip joint, it is recommended to perform an injection under ultrasound guidance. This is not necessary if HyalOne is used for the knee joint.
The sterility of the outer surface of the syringe makes the product suitable for use in the operating room.
Contraindications
It cannot be administered to patients with confirmed individual hypersensitivity to the components of the product and in cases of infections or skin diseases in the areas of injection sites. There is no evidence of contraindications for re-treatment.
Composition
Active substance: 4 ml of the solution contain 60 mg of sodium salt of hyaluronic acid.
Excipients: sodium chloride, sodium phosphate dodecahydrate, sodium dihydrogen phosphate dihydrate, water for injection.
Release form
1 pre-filled syringe in a cardboard box.
Each syringe is hermetically sealed in a blister sterilized with ethylene oxide and contains a thermally sterilized solution of sodium salt of hyaluronic acid 60 mg / 4 ml.
Manufacturer
Fidia Farmaceutici S.p.A., Via Ponte della Fabbrica 3/A, 35031 Abano Terme (PD), Italy.
Sanitary and hygienic conclusion
№UA.MD.099-17.
Advertising of a medical device. Not a medicine. Before using a medical device be sure to consult a doctor.