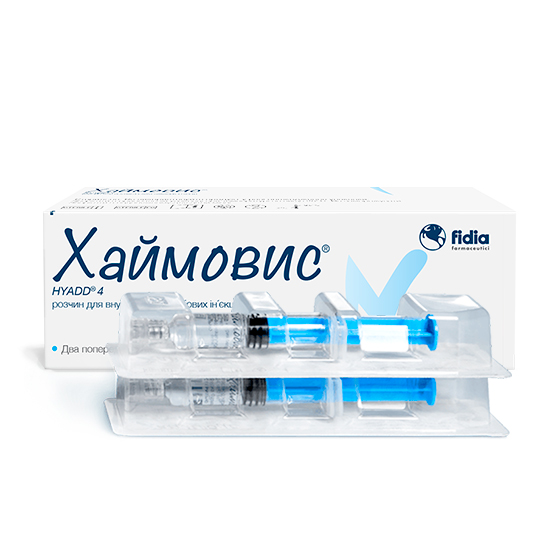 Medical devices
Hymovis
Hymovis
Hymovis® – a new era of hyaluronic acids for diseased joints! Hymovis® is an innovative Italian preparation of hyaluronic acid from FIDIA, designed for intra-articular use for joint pain (arthrosis), knee injuries and to improve joint mobility. The properties of Haimovis® make it the best drug for the treatment of osteoarthritis, acute and traumatic chondropathy in professional athletes and amateurs!
Information
Indications for use (instruction): Hymovis
Hymovis® is recommended for the treatment of pain in joints affected by osteoarthritis, for the conservative radiation of mechanical injuries of the knee and for improving joint mobility by increasing the viscoelasticity of the synovial fluid.
How to use
The treatment cycle for joints affected by osteoarthritis consists of two injections given one week apart. The cycle of treatment for joints with mechanical trauma consists of two injections given two weeks apart. Hymovis® is intended for intra-articular injection only. The introduction of the product should be performed exclusively by a physician. The sterility of the outer surface of the syringe allows for intra-articular injections in the operating room. Through the viscosity, slowly inject Hymovis® into the extended joint using an appropriate 18 G or 20 G gauge needle.
All rules for aseptic injection technique must be strictly followed. Before injecting Hymovis®, remove any discharge from the joint, if any.
The syringe is for single use, inject the content into one joint only. If this product is recycled and / or reused, Fidia Farmaceutici S.p.A. cannot guarantee the characteristics, functionality, material structure, purity and sterility of the product. Reuse can cause illness, infection and serious injury to the patient or user.
Do not use in conjunction with disinfectants containing quaternary ammonium salts, as sodium hyaluronate hexadecylamide can precipitate in their presence. Avoid the simultaneous administration of Haimovis® with other intra-articular drugs to prevent any possible interactions.
Local side effects such as pain, swelling / discharge, fever and redness may occur at the injection site. These symptoms are usually mild and temporary. More pronounced inflammatory reactions have been reported with sodium hyaluronate-based products for intra-articular use. As with any intra-articular treatment, septic arthritis rarely occurs unless general preventive measures for aseptic injections are followed.
Contraindications
It should not be administered to patients with confirmed individual intolerance to the components of the product or in case of infections or skin diseases in the areas of injection sites.
Composition
Active substance: sodium hyaluronate hexadecylamide, 24 mg / 3 ml.
Excipients: sodium chloride, sodium hydrogen phosphate dodecahydrate, sodium dihydrogen phosphate dihydrate, water for injection.
Release form
2 filled syringes in a cardboard box. Each syringe is hermetically sealed in a blister sterilized with ethylene oxide and contains 3 ml of thermally sterilized hydrogel.
Manufacturer
Fidia Farmaceutici S.p.A., Via Ponte della Fabbrica 3/A, 35031 Abano Terme (PD), Italy.
Sanitary and hygienic conclusion
Certificate of conformity to the requirements of the technical regulation for medical devices NoUA.MD.099-17.
Warnings
Treatment should be avoided if there are signs of acute inflammation in the joint.
Safety and effectiveness in children and pregnant women have not been established.
Safety and effectiveness in conjunction with other types of intraarticular treatment have not been established.
The syringe is intended for single use only; the contents are inserted into only one joint.
Advertising of a medical device. Not a medicine. Before using a medical device be sure to consult a doctor.

This section of the site contains information about medicines, their properties, methods of use, as well as other specialized information that is intended for healthcare professionals. The information on medicines contained in this section is not a guide for self-diagnosis and / or treatment. LLC SA Pro-Pharma is not responsible for possible negative consequences arising from the independent use of information from this section. Using the information from this section, you do it yourself, understanding that: self-medication can be harmful to your health, you must read the instructions and consult a doctor before using medicines.