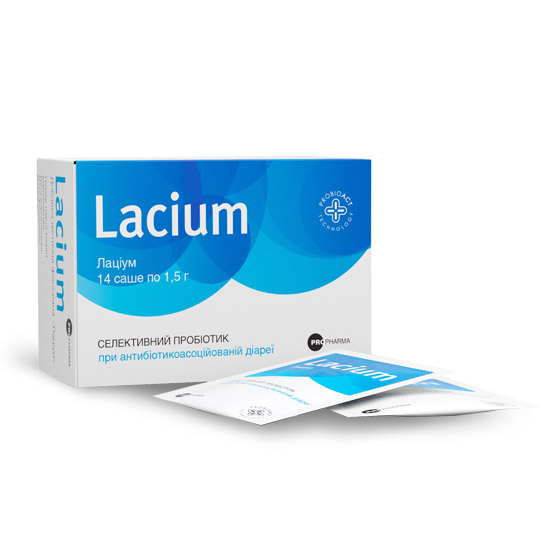 Dietary supplements
Lacium
Lacium
The complex of probiotics and prebiotics "Latium" is recommended to restore the intestinal microflora and prevent the development of dysbiosis of any origin. Prebiotics are food sources for creating beneficial microflora. They provide the growth of beneficial lacto- and bifidobacteria in the intestines, displace pathogenic flora and suppress the reproduction of microbes.
Information
Indications for use (instruction): Lacium
correction and prevention of negative effects of treatment with antibiotics and other drugs;
irritable bowel syndrome (IBS), pseudomembranous colitis and diseases caused by Clostridium difficile;
diseases of the stomach and duodenum associated with Helicobacter pylori;
to normalize disorders of the intestinal microflora, which occur in the case of living in adverse environmental conditions, while traveling, in violation of the diet.
How to use
Adults and children from 12 years old 1 sachet 2 times a day (morning and evening). Children from 3 to 12 years old take 1 sachet 1 time per day. Dissolve the contents of 1 sachet in 100 ml of boiled drinking water, milk, yogurt or fruit juice at room temperature, leave for 10 minutes, mix thoroughly and drink. It is recommended to consult a doctor before use. The duration of use is determined by the doctor individually. If necessary, repeat the reception.
Consume 20-30 minutes before meals. For maximum effectiveness, the interval between taking Latium and antibiotics should be 2 hours. Do not exceed the recommended daily dose.
Contraindications
Hypersensitivity to the components of the drug.
Composition
Active components: Bifidobacterium bifidum, Bifidobacterium lactis, Enterococcus faecium, Lactobacillus acidophilus, Lactobacillus paracasei, Lactobacillus plantarum, Lactobacillus rhamnosus, Lactobacillus salivarius – not less than 1,0x109 CFU / g
Release form
Powder for oral suspension in sachet №14.
Manufacturer
Winclove Bio Industries B.V., Hulstweg 11, 1032 LB Amsterdam, The Netherlands.
Sanitary and hygienic conclusion
№05.03.02-03/14358
Advertising dietary supplements. Not a medicine.