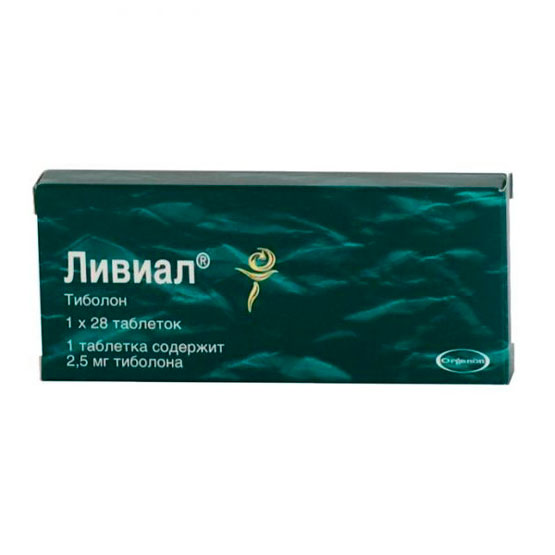 Gynecology
Livial
Livial
Livial is a hormonal pill that is used to treat estrogen deficiency in women after menopause. Taking the drug is also indicated for the prevention of osteoporosis during postmenopause in case there is intolerance to other drugs. Read more about Livial, dosage and features of the application in the instructions.
Information
Indications for use (instruction)
Treating estrogen deficiency symptoms in postmenopausal women if menopause occurs more than 1 year ago.
Prevention of postmenopausal osteoporosis in women at high risk for future fractures with intolerance or contraindications to the use of other drugs to prevent osteoporosis.
The decision to prescribe tibolone should be based on an assessment of individual risk factors; for patients over the age of 60, the risk of stroke should be taken into account.
How to use
The recommended dose is 1 tablet per day. There is no need for dose adjustment for elderly patients. Take the tablets with a little water or other drinks, preferably at the same time of the day. To begin and continue treatment for postmenopausal symptoms, the lowest effective dose should be used for a short period of time. In the treatment with Livial®, progestogens should not be used separately.
The beginning of the use Livial®.
Women with natural menopause are advised to begin treatment with Livial® no earlier than 12 months after the last natural bleeding. In case of menopause following surgery, treatment with Livial® can be started immediately.
Before taking Livial®, the cause of any irregular/unscheduled vaginal bleeding, both with hormone replacement therapy (HRT) and without it, must be determined to exclude malignant neoplasms.
Transition from sequential or continuous use of the combined drug HRT.
When switching from a sequential regimen of HRT use, the use of Livial® should be started the next day after the completion of the previous regimen. If the transition occurs from a continuous regimen of the combined preparation of HRT, then treatment with Livial® can be started at any time.
Missed dose.
The missed dose should be taken immediately, as soon as the patient remembers it, if the delay is no more than 12 hours. If the delay in admission is more than 12 hours, the next dose is taken at the usual time for this. Skipping a dose may increase the chance of breakthrough bleeding or spotting.
Contraindications
Hypersensitivity to the active substance or to any of the excipients.
Pregnancy and lactation.
Suspicion of breast cancer, its current or past history (Livial® increased the risk of breast cancer recurrence in a placebo-controlled study).
Suspected or existing estrogen-dependent tumors (e.g. endometrial cancer).
Vaginal unknown etiology bleeding .
Untreated endometrial hyperplasia.
A history of venous thromboembolism or at present (deep vein thrombosis, pulmonary embolism).
Thrombophilic disorders (e.g., protein C, protein S, or antithrombin deficiency).
A history of arterial thromboembolic diseases (e.g., angina pectoris, myocardial infarction, stroke, or transient ischemic cerebrovascular accident).
An acute liver disease or a history of liver disease, before normalization of liver function tests.
Porphyria.
Composition
Active ingredient: 1 tablet contains 2.5 mg of tibolone.
Excipients: potato starch; magnesium stearate; ascorbyl palmitate; lactose, monohydrate.
Release form
28 tablets in a blister with a marked in Ukrainian; 1 blister with instructions for use in a cardboard box marked in Ukrainian.
Dosage form: tablets.
The main physical and chemical properties: round, flat, with beveled edges, white tablets, on the one hand with the inscription «ORGANON*», on the other – «MK» over «2».
Storage conditions
Store in the original packaging at a temperature not exceeding 25 ºС out of the reach of children.
Manufacturer
NV Organon, 5349 AV Oss, Cloosterstreat 6, The Netherlands/ Molenstraat 110, 5342 SS Oss, The Netherlands.
Sanitary and hygienic conclusion
No. 812 dated 11/06/2014.
Registration certificate UA/2280/01/01.