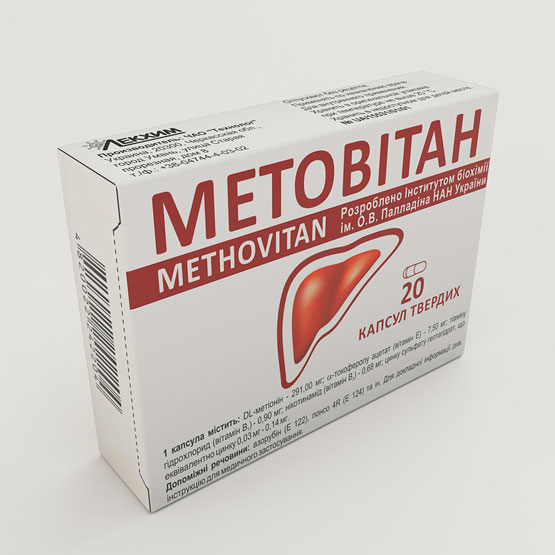 Vitamins and minerals
Methovitan
Methovitan
Methovitan hard capsules are recommended for use as part of complex therapy for liver diseases, in the postoperative period, and for chronic alcoholism. The drug can be used to strengthen the body overall, to increase resistance to infectious diseases, as well as with increased mental and physical strain. Read more about Methovitan, features of the reception, interaction with other medicines, read the instructions.
Information
Indications for use (instruction)
For prevention and as part of the complex therapy of liver diseases: non-alcoholic and alcoholic steatohepatosis, liver damage due to the use of toxic chemicals (arsenic, chloroform, benzene) and drugs (including antibiotics).
In the postoperative period and the recovery period after diseases, including intoxication of various origins.
In combination therapy for chronic alcoholism.
With increased mental and physical stress, especially in adverse environmental conditions.
To increase the body's resistance to infectious diseases, including colds.
How to use
The drug is prescribed for therapeutic purposes to adults, 1 capsule 3 times a day.
For prevention in autumn and spring, during epidemics, the drug is recommended to take 2 capsules 1 time per day.
Capsules should be taken orally after 30 minutes after eating courses of 5 to 10 days with the same intervals.
The duration of admission is determined by the doctor individually and can range from 2 weeks to 2 months.
Children
The drug in this dosage form is not intended for use by children.
Contraindications
Hypersensitivity to any of the components of the drug.
Hepatic encephalopathy, severe liver failure, acute viral hepatitis.
Congenital homocysturia disease, in which there is a violation of homocysteine remethylation to methionine.
Composition
Active ingredients: 1 capsule contains: DL-methionine – 291 mg; α-tocopherol acetate (vitamin E) – 7.5 mg; thiamine hydrochloride (vitamin B1) – 0.9 mg; nicotinamide (vitamin B3) – 0.68 mg; zinc sulfate heptahydrate, which is equivalent to zinc 0.03 mg – 0.14 mg.
Excipients: microcrystalline cellulose, hypromellose, talc, Banana flavor.
Capsule: gelatin, quinoline yellow (E 104), azorubine (E 122), ponso 4R (E 124), titanium dioxide (E 171).
Release form
Packaging. 10 capsules in a blister. 2 blisters in a pack of cardboard.
Dosage form. Hard capsules.
Basic physical and chemical properties: cylindrical hard gelatine capsules with an opaque white body and an opaque red cap, filled with white to light yellow microspheres with a specific odor.
Storage conditions
Store in the original packaging at a temperature not exceeding 25 °C, out of the reach of children.
Manufacturer
PJSC "Technologist", Ukraine, 20300, Cherkasy region, Uman city, Staraya proreznaya street, 8.
Sanitary and hygienic conclusion
No. 921 dated 08/09/2017.
Registration Certificate No. UA/15531/01/01.