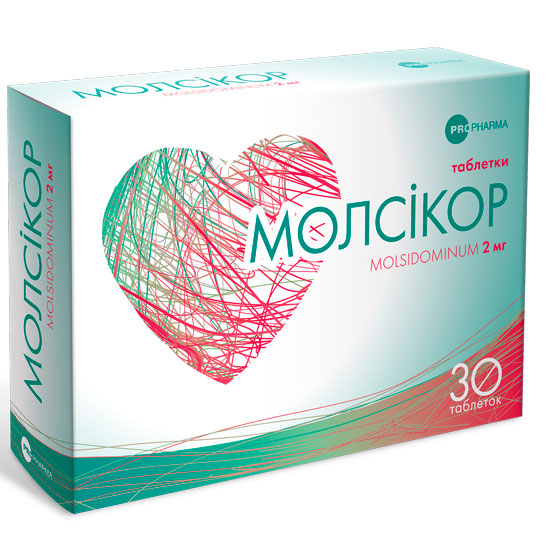 RX
Molsicor 2 mg
Molsicor 2 mg
Molsicor (2 mg) is a pill recommended for the coronary heart disease treatment, the prevention of angina attacks in case of intolerance or lack of nitrates effectiveness. Also, the appointment is prescribed for chronic heart failure as part of combination therapy. Read more about Molsicor, dosage, features of application, read the instructions.
Information
Indications for use (instruction): Molsicor 2 mg
Coronary heart disease: prevention of angina attacks (with intolerance or insufficiency of nitrates).
Chronic heart failure (as part of combination therapy).
How to use
The drug dosage and frequency are set individually for each patient, depending on the degree of manifestations and phase of disease activity.
In case of spontaneous angina attacks, the last dose of molsidomine is better taken at bedtime.
Increasing the drug dose should be done gradually to prevent side effects in the form of persistent headache in some patients.
The drug can be used regardless of the consumption of food.
Usually prescribed 1-2 mg of the drug 3-4 times a day (3–8 mg of molsidomine per day).
If necessary, the dose can be increased to 4 mg of the drug 3-4 times a day (12–16 mg of molsidomine per day).
Children. Do not use this medicine for children.
Contraindications
Hypersensitivity to any drug component.
Glaucoma, especially closed-angle.
Acute stage of myocardial infarction, especially with a decrease in blood pressure.
Cardiogenic shock.
Arterial hypotension.
Co-administration of molsidomine and sildenafil.
Concomitant administration of any form of nitric oxide donors and stimulants of soluble guanylate cyclase (eg, riotsiguat) is contraindicated because of the risk of arterial hypotension.
Composition
Active ingredient: molsidomine;
1 tablet of 2 mg contains molsidomine 2 mg.
Excipients: lactose, monohydrate; saccharose; potato starch; orange-yellow S (E 110); povidone K-25; magnesium stearate.
Release form
30 tablets in a blister; 1 blister in a carton pack.
Storage conditions
Store in the original package at a temperature not exceeding 25 °C in a dark place and out of the reach of children.
Manufacturer
Pharmaceutical plant «POLFARMA» SA, manufacturer department in Nova Debba, str. Shipowski 1, 39-460 Nowa Demba, Poland.
Registration certificate
No 450 dated 03/06/2018.
Registration certificate UA/6905/01/01.
Information on medicines is intended exclusively for doctors.