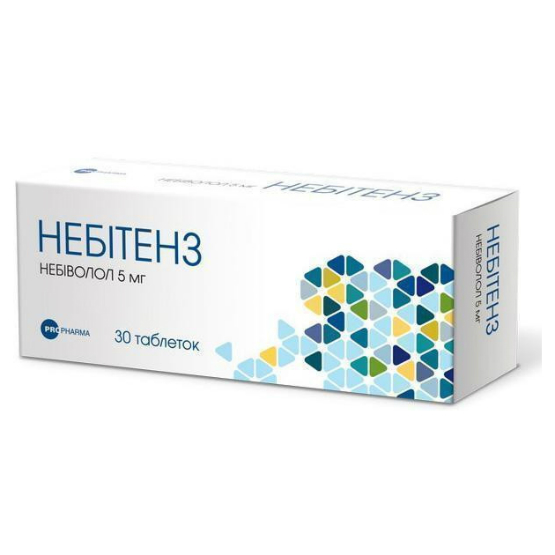 Cardiology
Nebitens
Nebitens
Nebitens – tablets belonging to the group of selective beta-adrenergic receptor blockers. Indicated for essential hypertension. Recommended as adjunctive therapy for stable chronic heart failure (mild to moderate) in patients over 70 years of age.
Information
Indications for use (instruction): Nebitens
Essential arterial hypertension. Chronic heart failure of mild or moderate severity in addition to standard methods of treatment for patients aged 70 years and over.
How to use
Arterial hypertension
Adults
The dose is 1 tablet (5 mg nebivolol) per day; it is advisable to apply it at the same time of day. The antihypertensive effect becomes apparent after 1-2 weeks of treatment, but sometimes the optimal effect is observed only after 4 weeks.
Combination with other antihypertensive agents.
β-blockers can be used both for monotherapy and in combination with other antihypertensive drugs. By this time, an additional antihypertensive effect was observed only with the combination of the drug Nebitens 5 mg with 12.5–25 mg of hydrochlorothiazide.
Patients with kidney failure
For patients with renal failure, the recommended starting dose is 2.5 mg per day. If necessary, the daily dose can be increased to 5 mg.
Patients with liver failure
Data on the use of the drug in patients with liver failure or impaired liver function are limited. Therefore, the use of Nebitens in such patients is contraindicated.
Elderly patients
For patients older than 65 years, the recommended dose is 2.5 mg per day. If necessary, it can be increased to 5 mg. However, due to insufficient experience with the use of the drug in patients over 75 years of age, its use requires caution and careful supervision of such patients.
Chronic heart failure
Treatment of chronic heart failure should begin with a slow dose titration until an individual optimal maintenance dose is reached. Such patients should be prescribed the drug if they have chronic heart failure without episodes of acute decompensation within the past 6 weeks. It is recommended that the doctor have experience in treating chronic heart failure. Patients using other cardiovascular agents, including diuretics and / or digoxin and / or ACE inhibitors (ACE) and / or angiotensin II receptor antagonists, should have an already selected dose of this medicine within the last 2 weeks before starting therapy with the drug Nebitens.
The initial dose titration should be carried out according to the following scheme, while maintaining intervals of 1 to 2 weeks and focusing on patient tolerance: 1.25 mg of nebivolol per day can be increased to 2.5 mg of nebivolol per day, and subsequently up to 5 mg 1 once a day, and then up to 10 mg once a day. The maximum recommended dose is 10 mg of nebivolol once a day. At the beginning of treatment and with each increase in dose, the patient should be under the supervision of an experienced doctor for at least 2 hours to make sure that the clinical condition remains stable (especially blood pressure, heart rate, impaired myocardial conduction, as well as increased symptoms of cardiac failure). The occurrence of side effects can interfere with treatment with the maximum recommended dose for all patients. If necessary, the already achieved dose can be gradually reduced again or returned to it again.
With increasing symptoms of heart failure or with intolerance to the drug in the titration phase, it is recommended to first reduce the dose of nebivolol or, if necessary, immediately discontinue the drug (in case of severe hypotension, increased symptoms of heart failure with acute pulmonary edema, in case of cardiogenic shock, symptomatic bradycardia or AV blockade).
As a rule, treatment of stable chronic heart failure with nebivolol is long-term.
Treatment with nebivolol should not be stopped suddenly, as this can lead to a temporary increase in heart failure. If drug withdrawal is necessary, then the dose should be phased out, halving it at intervals of 1 month.
Patients with kidney failure
Since titration of the dose to the maximum tolerated occurs individually, its correction in case of renal failure of mild to moderate severity is not required. There is no experience in the use of the drug in patients with severe renal failure (serum creatinine level ≥ 250 μmol / L), therefore, the use of nebivolol in such patients is not recommended.
Patients with liver failure
There are only limited data on the use of the drug in patients with liver failure. Given this use of the drug Nebitens these patients are contraindicated.
Elderly patients
Since titration of the dose to the maximum tolerated is carried out individually, dose adjustment is not required.
Mode of application
Oral administration
Tablets can be used with food.
Children
The efficacy and safety of the use of the drug Nebitens in children and adolescents (under 18 years of age) have not been investigated. No data available. Thus, the use of children and adolescents (up to 18 years) is not recommended.
Contraindications
Hypersensitivity to the active substance or to any excipient specified in the "Composition" section.
Hepatic failure or impaired liver function.
Acute heart failure, cardiogenic shock or episodes of decompensation of heart failure, requiring the introduction of active substances with a positive inotropic effect.
In addition, like other β-blockers, Nebitens is contraindicated in:
sick sinus syndrome, including sinoatrial block;
AV blockade of the II-III degree (without artificial pacemaker);
a history of bronchospasm and bronchial asthma;
untreated pheochromocytoma;
metabolic acidosis;
bradycardia (before treatment of heart rate less than 60 beats/min);
arterial hypotension (systolic blood pressure less than 90 mm Hg. Art.);
severe disorders of peripheral circulation.
Composition
Active ingredient: nebivolol;
1 tablet contains 5.45 mg of nebivolol hydrochloride, which corresponds to 5 mg of nebivolol.
Excipients: lactose, macrogol 6000, croscarmellose sodium, magnesium stearate, colloidal silicon dioxide.
Release form
10 tablets in a blister, 3 blisters in a cardboard box.
Storage conditions
Special storage conditions are not required. Keep out of the reach of children.
Manufacturer
Actavis Ltd, BLB 016, Industrial Zone Bublebel, Zeytun, ZTN3000, Malta.
Sanitary and hygienic conclusion
No. 2249 of 11/30/2018
Registration Certificate No. UA/13347/01/01