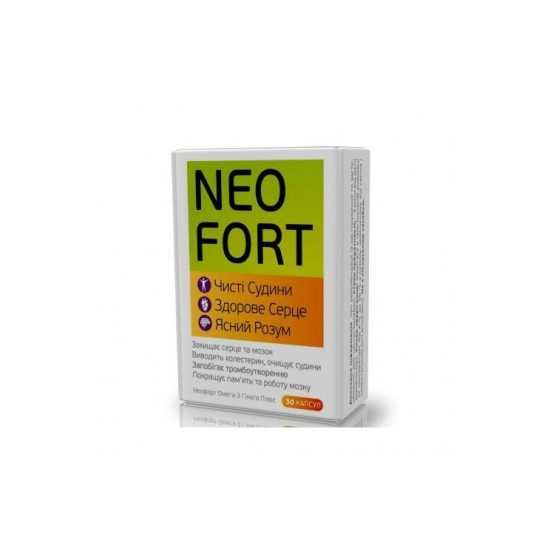 Dietary supplements
Neofort
Neofort
Neofort is a dietary supplement, which is recommended for use as an additional source of omega-3, flavonoids and other components to normalize the functioning of the cardiovascular system. Helps normalize blood circulation in the brain and blood pressure. You can read more about Neofort in the instructions.
Information
Indications for use (instruction): Neofort
NEOFORT Omega-3 Ginkgo Plus can be recommended by a doctor as a dietary supplement to the diet as an additional source of omega-3 polyunsaturated fatty acids, flavonoids (flavonols and their glycosides), terpene lactones to normalize the functional state of the cardiovascular system. The complex of biologically active substances which is a part of NEOFORT Omega-3 Ginkgo Plus has cardioprotective, hypocholesterolemic, antithrombotic and antiarrhythmogenic properties, promotes normalization of blood pressure and cerebral circulation, improvement of memory, occupation and occupation.
How to use
Take 2 capsules once a day in the morning after meals, drink plenty of drinking water. The course of application is from 3 to 6 months. If necessary, the course can be repeated. Consultation with a doctor is recommended before use.
Contraindications
Pregnancy and lactation period, individual sensitivity to any of the components.
Composition
1 capsule contains: active ingredients: fish oil (omega-3 polyunsaturated fatty acids, the sum of which is not less than 80%) – 420 mg (including docosahexaenoic acid – 250 mg, eicosapentaenoic acid – 50 mg), standardized dry gingko biloba extract (Gingko biloba) – 50 mg (containing flavonols and their glycosides, not less than 24% and terpene lactones, not less than 6%); excipients: stabilizers: glycerol, sunflower lecithin; capsule shell: gelatin, filler: glycerin, purified water, dyes: titanium dioxide, iron oxide red, yellow "sunset" special yellow FCF, tartrazine, carmine.
Release form
Soft gelatin capsules weighing 250 mg +/- 7.5% in blisters packed in a carton.
Storage conditions
Store in the original package at 4 °C to 25 °C in a dry, dark place and out of the reach of children.
Manufacturer
U.G.A. Nutraceuticals S.r.l., Italy, Via Arboreto, 62-06024 Gubbio (PG)
Advertising dietary supplements. Not a medicine.