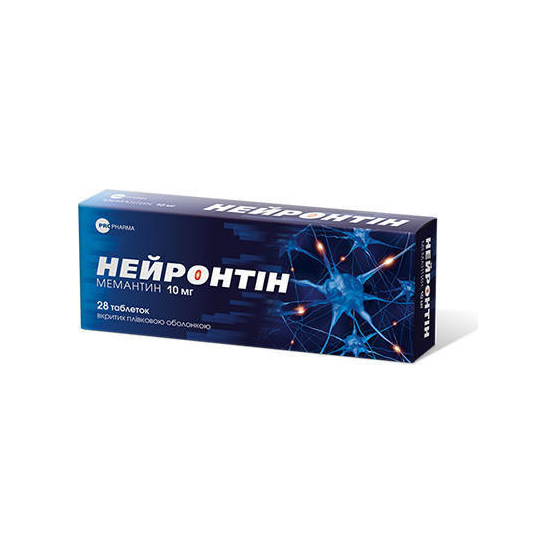 Neurology
Neurontin
Neurontin
Neurontin – tablets related to drugs that are recommended for dementia. Assigned to patients with Alzheimer's disease from mild to severe severity. The main active ingredient of the drug is memantine.
Information
Indications for use (instruction): Neurontin
Alzheimer's disease from mild to severe.
How to use
Treatment should be started and carried out under the supervision of a physician. Therapy should be started only if there is a guardian who will regularly monitor the patient's intake of the drug.
Tablets should be taken once a day every day at the same time. Tablets can be taken without regard to meals.
Adults
The maximum daily dose is 20 mg. In order to reduce the risk of adverse reactions, the maintenance dose should be determined by gradually increasing the dose by 5 mg per week for the first 3 weeks as follows:
1st week (1–7th day):
take ½ tablets (5 mg per day) for a week;
2nd week (8–14th day):
take 1 tablet (10 mg per day) for a week;
3rd week (day 15–21):
take 1½ tablets (15 mg per day) for a week;
starting from the 4th week:
take 2 tablets (20 mg per day) every day.
The recommended maintenance dose is 20 mg per day.
The duration of treatment is individually determined by a doctor with experience in diagnosing and treating Alzheimer's disease. The tolerability and dosage of memantine should be regularly evaluated, preferably within three months from the start of treatment. In the future, the clinical effect of memantine and the patient's response to treatment should be evaluated regularly in accordance with current clinical recommendations. Supportive treatment can be continued as long as the therapeutic effect remains favorable and patient tolerance of memantine is good. Consideration should be given to discontinuing memantine treatment if signs of a therapeutic effect disappear or patient tolerance worsens.
Elderly patients. Based on the results of clinical studies, the recommended dose for patients over the age of 65 is 20 mg per day (2 tablets of 10 mg 1 time per day), as described above.
Decreased renal function.
For patients with impaired renal function of mild severity (creatinine clearance of 50–80 ml/min), a dose reduction is not required. For patients with impaired renal function of moderate severity (creatinine clearance 30–49 ml/min), the daily dose should be reduced to 10 mg. The dose can be increased to 20 mg per day according to the standard scheme if there are no negative reactions after at least 7 days of treatment. In patients with severe renal impairment (creatinine clearance 5–29 ml/min), the daily dose should be reduced to 10 mg.
Decreased liver function.
For patients with impaired liver function of mild or moderate severity (class A and class B according to the Child-Pugh classification), dose adjustment is not required. The use of memantine in patients with severely impaired liver function is not recommended.
Children.
The drug should not be used in children due to insufficient data on safety and effectiveness.
Contraindications
Hypersensitivity to the active substance or to any component of the drug.
Composition
Active substance: memantine;
1 tablet contains 10 mg of memantine hydrochloride.
Excipients: microcrystalline cellulose, crospovidone, talc, magnesium stearate.
Shell tablets: Opadry II White 33G28435: hypromellose, titanium dioxide (E 171), lactose, macrogol, triacetin.
Release form
14 tablets in a blister, 2 blisters in a cardboard box.
Storage conditions
Store in the original packaging at a temperature not exceeding 25 °C. Keep out of the reach of children.
Manufacturer
Actavis Лтд, BLB 016, Bulebel Industrial Estate, Zejtun, ZTN3000, Malta.
Sanitary and hygienic conclusion
No.6 on 02/02/2019
Registration Certificate No. UA/13402/01/01