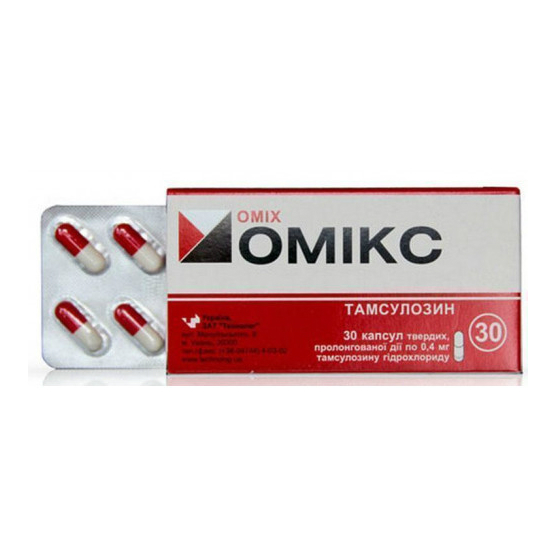 Urology
Omix
Omix
Omix is a drug that is used to treat functional disorders of the lower urinary tract with benign prostatic hyperplasia. Available in the form of hard capsules. Active substances provide a prolonged action.
Information
Indications for use (instruction): Omix
Treatment of functional disorders of the lower urinary tract with benign prostatic hyperplasia.
How to use
The recommended dose for adults is 1 capsule daily, after breakfast or after the first meal. The capsule should be swallowed whole, not broken or chewed, as this will interfere with the modified release of the active ingredient.
No dose adjustment is required for patients with renal impairment. No dose adjustment is required in patients with moderate or moderate hepatic impairment.
Children
Do not use this medicine in children.
The safety and efficacy of tamsulosin in children have not been evaluated.
Contraindications
Hypersensitivity to tamsulosin hydrochloride, including drug-induced angioneurotic edema, or to any of the excipients; the history of orthostatic hypotension; severe liver failure.
Composition
Active ingredient: tamsulosin hydrochloride;
1 capsule contains 0.4 mg tamsulosin hydrochloride.
Excipients: microcrystalline cellulose, methacrylate copolymer dispersion, hypromellose (hydroxypropylmethylcellulose), propylene glycol, talc, magnesium stearate, sodium lauryl sulfate; capsule shell: titanium dioxide (E 171), quinoline yellow (E 104), carmoysin (E 122), poncho 4R (E 124), gelatin.
Release form
10 capsules per blister. 1 or 3 blisters in a pack of cardboard.
Storage conditions
Store in the original package at a temperature not exceeding 25 °C. Keep out of the reach of children.
Manufacturer
PJSC "Technologist", Ukraine, 20300, Cherkasy region, Uman, Stara Prorizna street, house 8.
Sanitary and hygienic conclusion
No 920 from 08/09/2017
Registration Certificate No. UA/4311/01/01