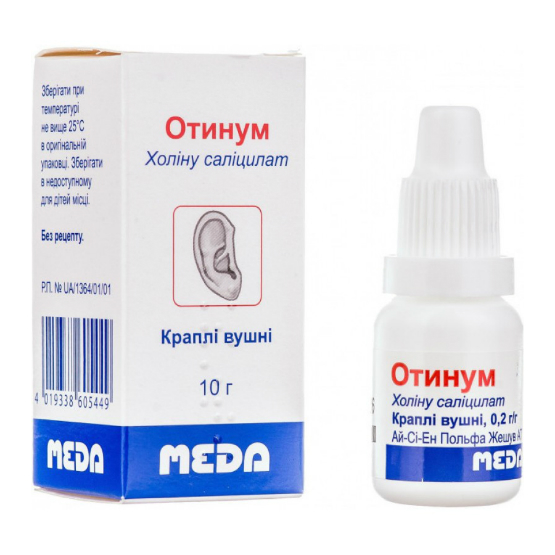 Therapy and medicine
Otinum
Otinum
Otinum – ear drops, which belong to the group of drugs used in otology. Relieve inflammation and anesthetize. Recommended for acute otitis media, external and tympanitis. It can be used to rinse the external auditory meatus in case of ear wax hardening.
Information
Indications for use (instruction): Otinum
Acute otitis media, tympanitis and otitis media.
It can also be used before flushing the external auditory canal in case of ear sulfur hardening.
How to use
Adults
In the short-term treatment of local symptoms of inflammation of the auditory canal: usually drop 3 to 4 drops in the auditory canal every 6-8 hours for a period of not more than 3 days.
To soften the earwax before removing it: Usually drop 3-4 ear drops into the ear canal every 12 hours for 4 days.
Elderly patients. No need to change the dosage.
Patients with impaired renal and hepatic function. Impaired renal and (or) liver function is not a contraindication for the use of Otinum, since the drug is topically administered and has no systemic effect. There is no need to change the dosage for this patient category.
Application method
The drug is intended for topical application for burial in the ear.
Independent treatment of local symptoms of inflammation of the ear canal should not exceed 3 days.
The patient should be advised that he or she should consult a physician immediately if no improvement occurs within 3 days or if the patient feels worse within 3 days of starting the medication.
Instructions for use of the drug
Wash your hands and unscrew the bottle cap.
Tilt your head or lie down with the patient's ear up.
Gently pull the ear lobe (lower part of the ear) towards the neck.
Turn the open vial upside down and squeeze 3-4 drops of the drug into the ear in need of treatment.
Keep the head tilted for a few minutes so that the drops can get into the ear canal.
Wipe off excess liquid with a clean cloth.
Close the vial.
Additional guidelines for taking Otinum
To facilitate the use of the drug, you can ask for help from another person or use a mirror.
Care should be taken to avoid water entering the ear in need of treatment.
Children. Application data is limited.
Contraindications
Hypersensitivity to the active substance, other salicylates or to excipients.
Pre-diagnosed perforation of the eardrum.
Bleeding or discharge from the ear.
Severe ear pain and hearing loss.
Under 18 years.
Composition
Active ingredient: choline salicylate;
1 g of drops contains choline salicylate 0.2 g.
Excipients: glycerol, ethanol 96%, chlorobutanol hemihydrate, water purified.
Release form
10 g per bottle; 1 bottle per carton.
Storage conditions
Do not store above 25 °C in the original package. Keep out of the reach of children.
Manufacturer
ICN Polfa Rzeszow S.A., 35-959 Rzeszow ul. Przemyslowa, 2, Poland.
Sanitary and hygienic conclusion
No.2320 dated 11/21/2019
Registration Certificate No. UA/1364/01/01