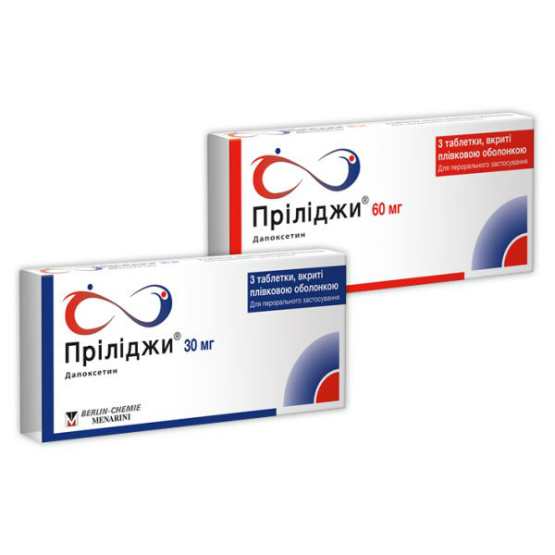 RX
Priligy
Priligy
Priligy tablets are a drug recommended for premature ejaculation in adult men. Tablets are prescribed only to patients who have been diagnosed with PE. The main active ingredient – dapoxetine – is a potent selective serotonin reuptake inhibitor. Two dosages: 30 mg and 60 mg. Read more about indications and features of application in the instructions.
Information
Indications for use (instruction): Priligy
Treatment of premature ejaculation (PE) in adult men aged 18 to 64 years.
Priligy® is recommended to be administered only to patients who meet the following criteria:
latent intravaginal ejaculation time (IELT) is less than two minutes;
persistent or recurrent ejaculation after minimal sexual stimulation before, during, or shortly after sexual intercourse, whichever comes first;
expressed stress or difficulties that have arisen in interpersonal relationships as a result of PE;
insufficient control over ejaculation;
the onset of premature ejaculation in most sexual intercourse attempts in the last 6 months.
Priligy® should only be taken as a treatment, prior to the alleged sexual act. Prilidji® should not be used to delay ejaculation in men who have not been diagnosed with PE.
How to use
The recommended starting dose for patients between the ages of 18 and 64 is 30 mg, which should be taken 1–3 hours before the intended intercourse. Treatment with Priligy® cannot be started with a dose of 60 mg.
Priligy® is not intended for continuous daily use. Priligy® should only be taken in the case of an alleged sexual act. The drug should not be taken more than 24 hours later.
If the individual response to the drug at a dose of 30 mg is insufficient and the patient did not experience moderate or severe adverse reactions, as well as prodromal symptoms suggestive of possible fainting, the dose can be increased to the maximum recommended dose of 60 mg to be taken if needs approximately 1–3 hours before intercourse. The frequency and severity of adverse reactions when taking the drug at a dose of 60 mg increases.
If the patient experiences orthostatic reactions after receiving the drug at the initial dose, it is not recommended to increase the dose to 60 mg. The maximum recommended dose should not be exceeded.
Careful consideration of the benefit of the benefits over the potential risk of taking Priligy® after the first four weeks of treatment (or at least after 6 doses of treatment) to determine whether it is advisable to continue treatment with Priligy®.
There is limited data regarding the efficacy and safety of administration of Priligy® for more than 24 weeks. The clinical need for continued treatment and the risk-benefit balance of Prilidji® should be reviewed at least every six months.
Elderly patients (over 65 years)
The efficacy and safety of Priligy® has not been established for patients aged 65 years and over.
Impairment of kidney function
Caution should be exercised when administering the drug to patients with mild or moderate renal impairment. Patients with severe kidney function Priligy® are not recommended.
Impairment of liver function
For patients with impaired liver function of moderate or severe degree, the drug is contraindicated
Slow metabolism of CYP2D6 or patients treated with potent CYP2D6 inhibitors have been established.
Caution should be given to increase the dose to 60 mg in patients with the established CYP2D6 slow metaboliser genotype or in patients receiving concomitant CYP2D6 inhibitors.
Patients taking moderate-potency CYP3A4 inhibitors or potent CYP3A4 inhibitors
Simultaneous administration of potent CYP3A4 inhibitors is contraindicated. Patients receiving concurrent moderate-strength CYP3A4 inhibitors should be cautious and not exceed the 30 mg dose.
Application method
The drug is intended for oral use. To avoid bitter taste, tablets should be swallowed without breaking. The tablets should be taken with enough water. Priligy® can be taken regardless of food intake.
Children
The use of Priligy® is contraindicated in children due to lack of clinical experience.
Contraindications
Hypersensitivity to the active substance or to any of the excipients.
Heart Failure (NYHA Class II-IV).
Conductivity disorders such as AV blockade or sinus node weakness syndrome.
Ischemic heart disease is expressed.
Expressed heart valve defect.
A history of fainting.
A history of mania or severe depression.
Concomitant administration of monoamine oxidase inhibitors (MAOIs), or less than 14 days after discontinuation. Prilegi® should be discontinued at least 7 days before initiation of MAO inhibitor therapy.
Concomitant administration of thioridazine or within 14 days after its end. Prilidzhi® should be discontinued at least 7 days before thioridazine therapy begins.
Concurrent administration of serotonin reuptake inhibitors (selective serotonin reuptake inhibitors (SSRIs), serotonin noradrenaline reuptake inhibitors (SNRIs), tricyclic antidepressants (TCAs) or other medicinal products) triptans, tramadol, linezolid, lithium, St. John's wort (Hypericum perforatum)] or within 14 days after discontinuation of these medicinal products/herbal products. These herbal medicines/preparations should not be taken within 7 days of the end of Prilegi®.
Simultaneous administration of potent CYP3A4 inhibitors such as ketoconazole, itraconazole, ritonavir, saquinavir, telithromycin, nefazodone, nelfinavir, atazanavir and the like.
Impairment of moderate or severe liver function.
Composition
Active ingredient: dapoxetine;
1 film-coated tablet contains dapoxetine hydrochloride 33.6 or 67.2 mg, corresponding to dapoxetine 30 or 60 mg, respectively;
Excipients: core: lactose monohydrate, microcrystalline cellulose, croscarmellose sodium salt, colloidal anhydrous silica, magnesium stearate.
Shell:
film coated tablets, 30 mg: Powder Gray 4 (lactose monohydrate, hypromellose, titanium dioxide (E 171), triacetin, ferric oxide black (E 172), yellow iron oxide (E 172);
film coated tablets, 60 mg: Powder Gray 3 (lactose monohydrate, hypromellose, titanium dioxide (E 171), triacetin, ferric oxide black (E 172), yellow iron oxide (E 172).
Release form
PVC-PE-PVDH / Aluminum blisters in folding packs for puncture-proof, child-resistant, containing 3 or 6 film-coated tablets.
Storage conditions
Special storage conditions are not required. Keep out of the reach of children.
Manufacturer
Menarini-Von Heiden GmbH, Leipziger Straße 7-13, 01097 Dresden, Germany.
Registration certificate
No. 2320 dated 11/21/2019
Registration Certificate (for 60 mg dosage): UA/15385/01/01
Registration Certificate (for 30 mg dosage): UA/15385/01/02
Information on medicines is intended exclusively for doctors.