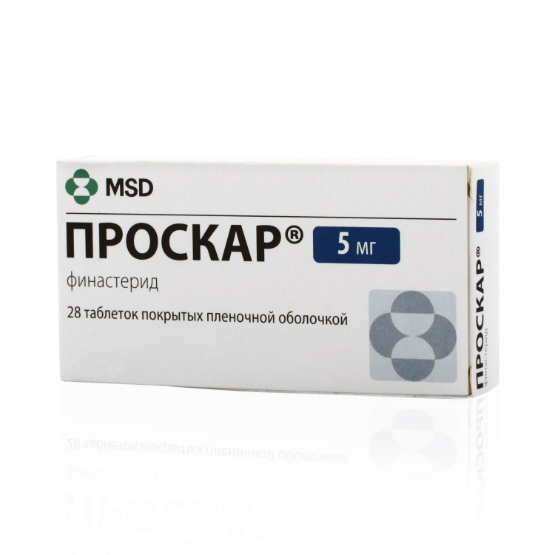 RX
Proscar
Proscar
Proscar – tablets that are used to treat benign prostatic hypertrophy. Assign to reduce the enlarged prostate gland, improve the outflow of urine and reduce the risk of acute delay. Read more about the drug and the features of the application in the instructions.
Information
Indications for use (instruction): Proscar
Treatment and control of benign prostatic hyperplasia (BPH) in patients with an enlarged prostate gland in order to:
reducing the size (regression) of the enlarged gland, improving the outflow of urine and reducing the symptoms associated with BPH;
reducing the risk of acute urinary retention and the need for surgical intervention, including transurethroresection of the prostate gland and prostatectomy.
How to use
The recommended dose is 1 tablet of 5 mg once a day during or regardless of the meal.
Proscar® can be used as monotherapy or in combination with alpha-blocker doxazosin.
The term of treatment is determined by the doctor individually. Although improvements in symptoms may occur earlier, at least six months of administration are required to evaluate the efficacy of the drug and then treatment should be continued. The risk of acute urinary retention is reduced within four months after the end of treatment.
For patients with renal insufficiency of varying severity (decrease in creatinine clearance to 9 ml/min), no dose adjustment is required, as pharmacokinetic studies have shown no change in the distribution of finasteride.
There are no data on the use of the drug in patients with impaired liver function.
No dose adjustment is required for elderly patients.
Do not apply to children.
Contraindications
Increased sensitivity to finasteride or any component of this drug.
Proscar® is not indicated for use in women and children.
Pregnancy: Used for women when they are or may be pregnant.
Composition
Active ingredient: finasteride;
1 tablet contains finasteride 5 mg.
Excipients: lactose, monohydrate; corn starch; sodium starch glycolate; yellow iron oxide (E 172); sodium docusate; microcrystalline cellulose; magnesium stearate.
Tablets: hypromellose; hydroxypropyl cellulose silicon dioxide; titanium dioxide (E 171); talc; indigo carmine aluminum lacquer (E 132).
Release form
There are 14 film-coated tablets in the blister. 2 blisters in carton.
Storage conditions
Store in the original package at a temperature not exceeding 30 °C, out of the reach of children.
Manufacturer
Merck Sharp and Dohme BV, Vaarderweg 39, 2031 BN Haarlem, The Netherlands.
Registration certificate
No.2446 dated 12/12/2019
Registration Certificate No. UA/0485/01/01
Information on medicines is intended exclusively for doctors.