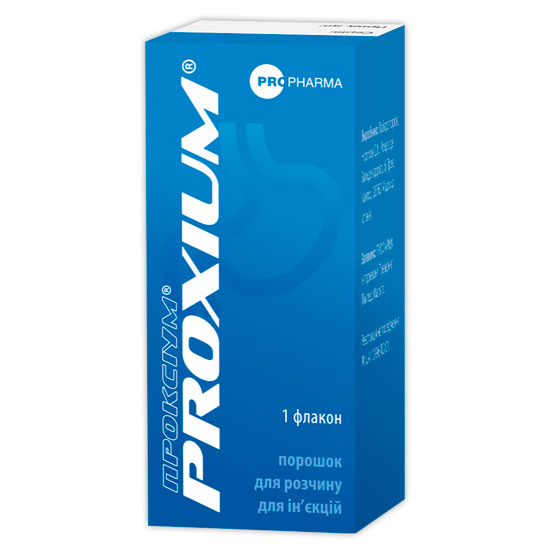 RX
Proxium Powder
Proxium Powder
Proxium is an injection powder for use in the treatment of acid-dependent diseases of the digestive tract. The components have antiulcer and antisecretory effects. The drug is recommended for gastric and duodenal ulcers, as well as treatment of reflux. Read more about indications, method and application features in the instructions.
Information
Indications for use (instruction): Proxium Powder
Reflux esophagitis.
Duodenal ulcer.
Stomach ulcer.
Zollinger‒Ellison syndrome and other hypersecretory pathological conditions.
How to use
The drug is used as directed by a doctor and under the proper medical supervision.
Intravenous administration of the drug is recommended only if oral administration is not possible. There are data on the duration of intravenous treatment up to 7 days. Therefore, as soon as oral pantoprazole is available, the transition from intravenous Proxium® to oral pantoprazole 40 mg.
Reflux esophagitis, duodenal ulcer, gastric ulcer.
The recommended dose is 40 mg pantoprazole (1 vial) per day intravenously.
Treatment of Zollinger's and Ellison's syndrome and other hypersecretory pathological conditions.
For long-term treatment of Zollinger-Ellison syndrome and other hypersecretory pathologies, the recommended starting dose of Proxium® is 80 mg per day. If necessary, the dose can be titrated, increasing or decreasing, depending on the indicators of acid secretion in the stomach. Doses in excess of 80 mg per day should be divided into two doses. A temporary increase in pantoprazole dose to more than 160 mg is possible, but the duration of administration should be limited only to the period necessary to adequately control acid secretion.
If rapid acidity reduction is required, for most patients, a starting dose of 2x80 mg is sufficient to achieve the desired level (<10 mEq/h) for 1 hour.
Preparation for application.
The powder was dissolved in 10 ml of 0.9% sodium chloride solution added to the vial. The solution can be administered directly or after mixing with 100 ml of 0.9% sodium chloride solution or 5% glucose solution in plastic or glass vials.
After dilution, the chemical and physical stability of the drug is maintained for 12 hours at 25 °C. From a microbiological point of view, the diluted drug should be used immediately.
Proxium® cannot be prepared or mixed with solvents other than those mentioned above.
The intravenous administration of the drug should be carried out within 2‒15 minutes.
The vial is for single use only. The residues of the preparation or the preparation whose physicochemical properties have changed (in particular the color has changed, the precipitate has appeared) must be disposed of in accordance with the requirements of local legislation.
The diluted solution should have a clear yellow color.
Hepatic insufficiency. Patients with severe hepatic impairment should not exceed a daily dose of 20 mg (Про Proxium® vial, 40 mg powder).
Renal insufficiency. Patients with impaired renal function do not require dose adjustment.
Elderly patients do not need a dose adjustment.
Children. Proxium®, a powder for solution for injection, is not recommended for use in children (under 18 years of age), because the safety and efficacy data for this age group is limited.
Contraindications
Hypersensitivity to the active substance, benzimidazole derivatives and any component of the drug.
Composition
Active ingredient: pantoprazole;
1 vial contains 40 mg pantoprazole (46 mg sodium sesquihydrate).
Excipients: Disodium edetate.
Release form
1 bottle per carton.
Storage conditions
Store in the original package at a temperature not exceeding 30 °C. Keep out of the reach of children.
Manufacturer
Laboratorios Normon SA, Ronda de Valdecarriso, 6, Tres Cantos, 28760 Madrid, Spain.
Registration certificate
№1212 from 05/30/2019
Registration Certificate UA/13996/02/01
Information on medicines is intended exclusively for doctors.