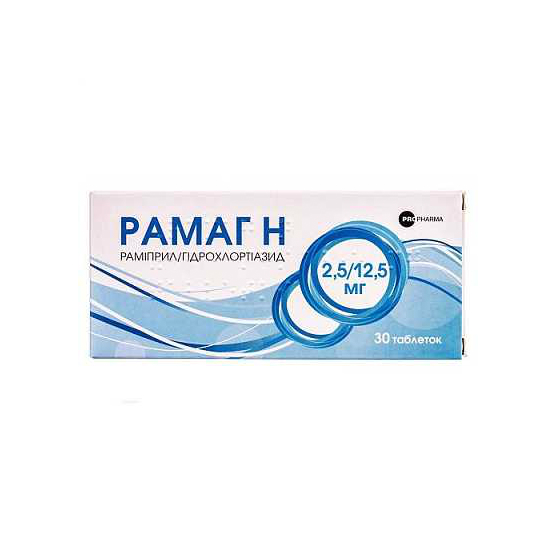 RX
Ramag H
Ramag H
Ramag H – tablets intended for patients suffering from arterial hypertension. The use of the drug is indicated in cases where blood pressure is not properly controlled with ramipril monotherapy. The drug is available in two doses of 2.5 mg / 12.5 mg and 5 mg / 25 mg of ramipril and hydrochlorothiazide, respectively. Indications and application features are described in detail in the instructions.
Information
Indications for use (instruction): Ramag H
Treatment of arterial hypertension. The use of this fixed combination is indicated in patients whose blood pressure is not properly controlled with ramipril or hydrochlorothiazide monotherapy.
How to use
For oral use.
It is recommended to take the drug once a day at the same time, preferably in the morning.
The drug can be taken before, during and after meals, since the use of food does not affect the bioavailability of the drug. The tablets should be swallowed whole with water. They cannot be chewed or crushed.
Adults. The dose should be adjusted individually, depending on the patient's characteristics and blood pressure level. The use of a fixed combination of ramipril and hydrochlorothiazide is usually recommended only after titrating the doses of each of its individual components.
Begin treatment with the lowest possible dose. If necessary, the dose can be gradually increased until the blood pressure target is reached. The maximum daily dose is 10 mg ramipril and 25 mg hydrochlorothiazide per day corresponding to 2 tablets of Ramag H 5 mg / 12.5 mg.
Contraindications
Hypersensitivity to the active substance ramipril or to other ACE inhibitors, hydrochlorothiazide, other thiazide diuretics, sulfonamides, or to any of the excipients included in the preparation.
A history of angioneurotic edema (hereditary, idiopathic, or previously transmitted against the use of ACE inhibitors or angiotensin II receptor antagonists).
Hypotension or hemodynamically unstable conditions.
Concomitant use of ACE inhibitors and extracorporeal treatments that result in blood contact with negatively charged surfaces (such use can lead to severe anaphylactoid reactions). Such extracorporeal treatments include dialysis or hemofiltration using certain membranes with high hydraulic permeability (eg, polyacrylonitrile) and low density lipoprotein apheresis using dextran sulfate.
Significant bilateral renal artery stenosis or unilateral renal artery stenosis in the presence of a single functioning kidney.
Severe renal impairment (creatinine clearance <30 ml/min) in patients not undergoing hemodialysis.
Clinically significant disturbances in electrolyte balance, the course of which may worsen during treatment with the drug.
Treatment-resistant hypokalemia or hypercalcemia.
Refractory hyponatremia.
Symptomatic hyperuricemia (gout).
Anury.
Severe impaired liver function, hepatic encephalopathy.
It is contraindicated for pregnant women and women planning to become pregnant.
Breastfeeding period.
Concomitant use of Ramag H with aliskiren containing patients with diabetes mellitus or renal dysfunction GFR <60 ml/min / 1.73 m2).
Concomitant use with angiotensin II receptor antagonist drugs in patients with diabetic nephropathy.
Composition
Active ingredient: ramipril; hydrochlorthiazide;
1 tablet contains ramipril 2.5 mg and hydrochlorothiazide 12.5 mg or ramipril 5 mg and hydrochlorothiazide 25 mg.
Excipients: Sodium bicarbonate, lactose monohydrate, croscarmellose sodium, pregelatinized starch, sodium stearyl fumarate.
Release form
10 tablets in a blister; 3 blisters per carton.
Storage conditions
Store in the original package at a temperature not exceeding 25 °C. Keep out of the reach of children.
Manufacturer
Actavis Ltd., BLB 016, Bulebel Industrial Zone, Zeitung, ZTN3000, Malta.
Registration certificate
No.464 dated 02.22.2019
Registration certificate (for dosage 2.5 mg / 12.5 mg): UA/13524/01/01
Registration certificate (for dosage 5 mg / 25 mg): UA/13524/01/02
Information on medicines is intended exclusively for doctors.