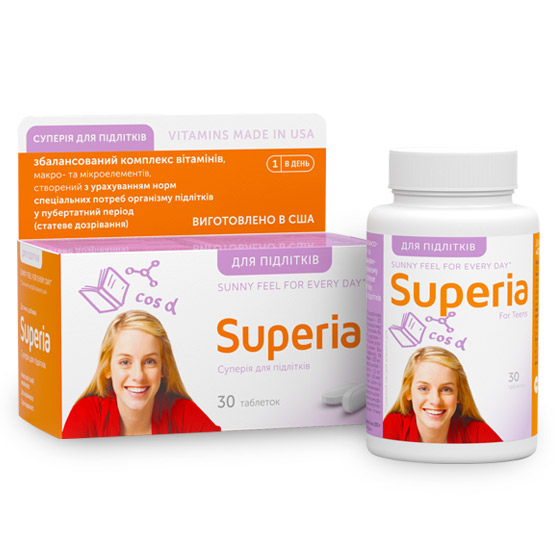 Dietary supplements
Superia for teenagers girls
Superia for girls
Superia for teen girls is a specially developed complex of vitamins and minerals necessary for a growing body. It is recommended to take vitamins in the autumn-winter period.
Information
Indications for use (instruction): Superia for teenagers girls
Superiore for girls is recommended as an additional source of vitamins, macro- and microelements in order to normalize the metabolism and create optimal dietary conditions for normal functioning of the human body during puberty: with increased physical, mental and psychoemotional stresses, inadequate vitamins and reduces the body's resistance to infectious diseases and during the recovery period.
Not a drug.
How to use
To use teenagers (children over the age of 11) 1 tablet per day after taking meals, drinking enough water. The course of use is 1 month. If necessary, it can be repeated after a break in 1 month. Before use, a doctor's advice is recommended.
Do not exceed the recommended daily dose. Should not be used as a substitute for a nutritious diet.
Contraindications
Individual sensitivity to any of the components of the product.
Composition
1 tablet contains the active ingredients: calcium (in the form of calcium carbonate) - 300 mg, vitamin C (ascorbic acid) - 120 mg, magnesium (in the form of magnesium oxide) – 100 mg, vitamin E – 30 IU (30 mg), niacin – 30 mg, iron (in the form of iron fumarate) – 18 mg, zinc (in the form of zinc oxide) – 15 mg, pantothenic acid (D-pantothenate calcium) – 5 mg, vitamin B6 (pyridoxine hydrochloride) – 4.2 mg, vitamin B2 (riboflavin) – 3.9 mg, vitamin B1 (thiamine mononitrate) – 3.3 mg, copper (in the form of copper (II) oxide) – 2000 µg, manganese (in the form of manganese sulfate) – 1.0 mg, vitamin A – 2000 IU (606 µg), β-k Arotin – 300 µg, folic acid – 400 µg, biotin (D-biotin) – 50 µg, vitamin K – 25 µg, vitamin D3 – 300 IU (7.5 µg), vitamin B12 (cyanocobalamin) – 6 µg, iodine ( in the form of potassium iodide) – 150 μg, chromium (in the form of chromium (III) chloride) – 50 μg, selenium (in the form of sodium selenite) – 20 μg.
Excipients: fillers – microcrystalline cellulose, croscarmellose, hydroxypropylcellulose, stearic acid, magnesium stearate, amorphous silicon dioxide; tablet shell – acetoglycerides, tween 80, hydroxypropyl methylcellulose, polyethylene glycol, purified water, titanium dioxide dye; glazing agent – carnauba wax.
Nutritional (food) and energy value (caloric content) per 100 g (g): proteins - 1.0 g (g), carbohydrates - 5.0 g (g), fats - 1.0 g (g); 138 kJ (kJ) / 33 kcal (kcal). Without GMO.
Release form
30 tablets per pack. Tablets weighing 1.672 g (g) ± 7.5%.
Storage conditions
Store in original packaging at a temperature of 4°C to 25°C in a dry, dark place and out of reach of children.
Manufacturer
Nutra Manufacturing, Inc., USA, 1050 Woodruff Road, Greenville, South Carolina, 29607; tel.: +1 800-289-4467.
Sanitary and hygienic conclusion
№05.03.02-03/117866
Advertising dietary supplements. Not a medicine.