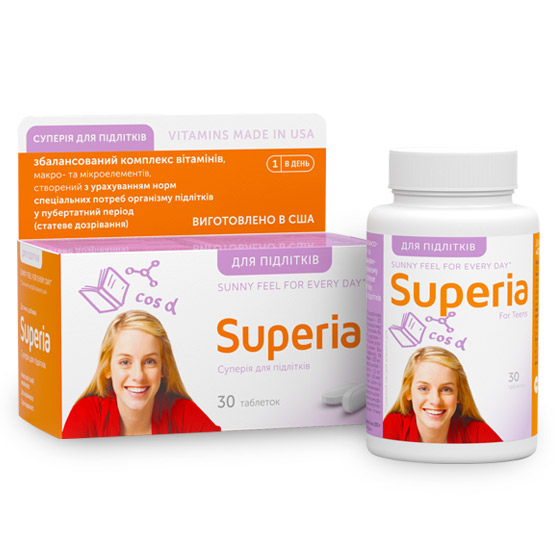 Vitamins and minerals
Superia for teenagers girls
Superia for girls
Superia for teen girls is a specially developed complex of vitamins and minerals necessary for a growing body. It is recommended to take vitamins in the autumn-winter period, when it is extremely difficult to obtain the necessary nutrients from fresh fruits and vegetables. During exam preparation, an extra portion of Superia will help strengthen the nervous system and better absorb the material.
Also, Superia for teen girls is recommended in the first 2 years after the first mesntruation. At this time, it is necessary to prevent the development of iron deficiency anemia and to help the body adapt to the monthly blood loss.
Information
Indications for use (instruction): Superia for teenagers girls
Superiore for girls is recommended as an additional source of vitamins, macro- and microelements in order to normalize the metabolism and create optimal dietary conditions for normal functioning of the human body during puberty: with increased physical, mental and psychoemotional stresses, inadequate vitamins and reduces the body's resistance to infectious diseases and periodic heals.
Not a drug.
How to use
To use teenagers (children over the age of 11) 1 tablet per day after taking meals, drinking enough water. The course of use is 1 month. If necessary, it can be repeated after a break in 1 month. Before use, a doctor's advice is recommended.
Contraindications
Individual sensitivity to any of the components of the product.
Composition
1 tablet contains the active ingredients: calcium (in the form of calcium carbonate) - 300 mg, vitamin C (ascorbic acid) - 120 mg, magnesium (in the form of magnesium oxide) – 100 mg, vitamin E – 30 IU (30 mg), niacin – 30 mg, iron (in the form of iron fumarate) – 18 mg, zinc (in the form of zinc oxide) – 15 mg, pantothenic acid (D-pantothenate calcium) – 5 mg, vitamin B6 (pyridoxine hydrochloride) – 4.2 mg, vitamin B2 (riboflavin) – 3.9 mg, vitamin B1 (thiamine mononitrate) – 3.3 mg, copper (in the form of copper (II) oxide) – 2000 µg, manganese (in the form of manganese sulfate) – 1.0 mg, vitamin A – 2000 IU (606 µg), β-k Arotin – 300 µg, folic acid – 400 µg, biotin (D-biotin) – 50 µg, vitamin K – 25 µg, vitamin D3 – 300 IU (7.5 µg), vitamin B12 (cyanocobalamin) – 6 µg, iodine ( in the form of potassium iodide) – 150 μg, chromium (in the form of chromium (III) chloride) – 50 μg, selenium (in the form of sodium selenite) – 20 μg.
Excipients: fillers – microcrystalline cellulose, croscarmellose, hydroxypropylcellulose, stearic acid, magnesium stearate, amorphous silicon dioxide; tablet shell – acetoglycerides, tween 80, hydroxypropyl methylcellulose, polyethylene glycol, purified water, titanium dioxide dye; glazing agent – carnauba wax.
Release form
30 tablets per pack
Storage conditions
Store in original packaging at a temperature of 4°C to 25°C in a dry, dark place and out of reach of children.
Manufacturer
Nutra Manufacturing, Inc., USA, 1050 Woodruff Road, Greenville, South Carolina, 29607; tel.: +1 800-289-4467.
Sanitary and hygienic conclusion
№05.03.02-03/117866