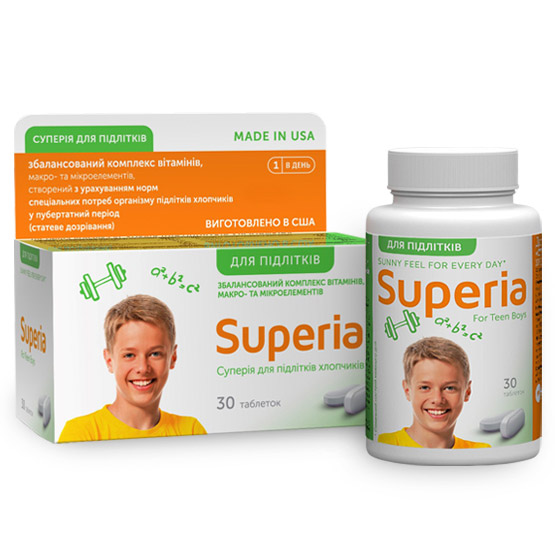 Dietary supplements
Superia for teen boys
Superia for boys
Superia for teen boys – a complex of vitamins and minerals, designed specifically for the needs of the growing body of a young gentleman. Course taking vitamins contributes to the harmonious development of both physical and mental. Superia is especially recommended for teen boys during puberty.
Information
Indications for use (instruction): Superia for teen boys
Super for adolescent boys is recommended as an additional source of vitamins, macro and micronutrients in order to normalize the metabolism and create optimal nutritional conditions for the normal functioning of adolescents during puberty (puberty): with increased physical, mental and psycho-emotional stress, which is incomplete in content vitamins and minerals nutrition, reduced body resistance in infectious diseases and during the recovery period.
How to use
Use adolescents (boys aged 11 years and older), 1 tablet per day after meals, drinking plenty of drinking water. The course of application is 1 month. If necessary, the course can be repeated after a break of 1 month. Before use, it is recommended to consult a doctor.
Do not exceed the recommended daily dose. Should not be used as a substitute for a nutritious diet.
Contraindications
Individual sensitivity to the components of the composition.
Composition
1 tablet contains the active ingredients: calcium (in the form of calcium carbonate) – 300 mg, vitamin C (ascorbic acid) – 120 mg, magnesium (in the form of magnesium oxide) – 110 mg, vitamin E – 30.135 mg, niacin – 30 mg, iron (in the form of iron fumarate – 12 mg, zinc (in the form of zinc oxide) – 15 mg, pantothenic acid (D-pantothenate calcium) – 5 mg, vitamin B6 (pyridoxine hydrochloride) – 4.2 mg, vitamin B1 (thiamine mononitrate ) – 3.3 mg, vitamin B2 (riboflavin) – 3.9 mg, copper (in the form of copper gluconate) – 2000 mcg, manganese (in the form of manganese sulphate) – 1.0 mg, vitamin A – 606 mcg, β- carotene – 300 mcg, folic acid – 400 mcg, biotin (D-biotin) – 50 mcg, vitamin K – 25 mcg, vitamin D3 – 300 IU (7.5 mkg), vitamin B12 (cyanocobalamin) – 6 mcg, iodine (in the form of iodide potassium) – 150 µg, chromium (in the form of chromium (III) chloride) – 50 µg, selenium (in the form of sodium selenite) – 20 µg.
Excipients: fillers – microcrystalline cellulose, croscarmellose, hydroxypropylcellulose, stearic acid, magnesium stearate, amorphous silicon dioxide; tablet shell - acetoglycerides, tween 80, hydroxypropyl methylcellulose, polyethylene glycol, purified water, titanium dioxide dye; glazing agent – carnauba wax.
Nutritional (food) and energy value (caloric content) per 100 g (g): proteins - 1.0 g (g), carbohydrates - 5.0 g (g), fats - 1.0 g (g); 138 kJ (kJ) / 33 kcal (kcal). Without GMO.
Release form
30 tablets per pack. Tablets weighing 1.672 g (g) ± 7.5%.
Storage conditions
Keep teenage boys in their original packaging at a temperature of 4°C to 25°C in a dry, dark place and out of reach of children.
Manufacturer
Nutra Manufacturing, Inc., USA, 1050 Woodruff Road, Greenville, South Carolina, 29607; tel.: +1 800-289-4467.
Sanitary and hygienic conclusion
№05.03.02-03/117866
Advertising dietary supplements. Not a medicine.