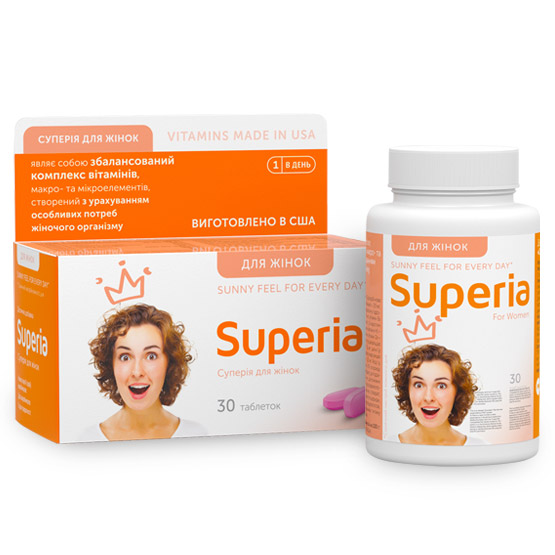 Vitamins and minerals
Superia for women
Superia for women
Superia for women is a vitamin complex containing essential trace elements that keep the female body in good shape. Especially vitamins are needed during the off-season, when it is difficult to obtain the necessary nutrients from fresh fruits and vegetables. Regular intake of Superia for women contributes to these positive changes:
hair and nails become strong and grow faster;
skin condition improves and its aging process slows down;
immunity is strengthened, which prevents the development of frequent infectious diseases;
normal carbohydrate metabolism and body weight.
Information
Indications for use (instruction): Superia for women
Super for women is recommended as an additional source of vitamins, macro- and microelements in order to create optimal nutritional conditions for the functioning of the female body, in particular the cardiovascular, musculoskeletal, immune systems, skin, hair and nails; protecting the body's cells from the harmful effects of negative environmental factors; prevention of vitamin, macro and micronutrient deficiencies in malnutrition, during periods of physical, mental, psycho-emotional stress and recovery from past illnesses.
How to use
To use for adults (women) on 1 tablet a day after food, washing down with enough drinking water. The course of application is 1 month. If necessary, the course can be repeated after a break of 1 month. It is recommended to consult a doctor Before use.
Contraindications
Individual sensitivity to components, pregnancy and lactation.
Composition
Active ingredients: vitamin C (ascorbic acid) – 120 mg, vitamin E – 30 IU (30 mg), vitamin B3 (niacin) – 20 mg, vitamin B5 (calcium pantothenate) – 15 mg, vitamin B6 (pyridoxine hydrochloride) – 5, 4 mg, vitamin B1 (thiamine monohydrate) – 3.9 mg, vitamin B2 (riboflavin) – 3.4 mg, vitamin A – 2800 IU (848 μg), β-carotene (provitamin A) – 420 μg, folic acid – 400 µg, biotin (vitamin H) – 30 µg, vitamin K – 20 µg, vitamin B12 (cyancobalamin) – 9 µg, vitamin D3 – 300 IU (7.5 µg), calcium (in the form of calcium carbonate and dicalcium phosphate) – 500 mg, magnesium (in the form of magnesium oxide) – 50 mg, zinc (in the form of zinc oxide) – 24 mg, manganese (in the form of manganese sulfate monohydrate) – 4.2 mg, copper (in the form of copper gluconate) – 2.2 mg, iodine (in the form of potassium iodide) – 150 μg, chromium (in the form of chromium (III) hexahydrate chloride) – 150 mcg, molybdenum (in the form of sodium molybdate udihydrate) – 90 mcg, selenium (in the form of sodium selenite) – 27 mcg.
Excipients: fillers: microcrystalline cellulose, croscarmellose, hydroxypropylcellulose, stearic acid, magnesium stearate, amorphous silica; tablet shell: acetoglycerides, tween-80, hydroxypropyl methylcellulose, hydroxypropyl cellulose, polydextrose, talc, triglycerides, purified water, dyes: titanium dioxide, carmines, glazing agent: carnauba wax. Nutritious (food) and energy value (caloric content) per 100 g: proteins – 1.0 g, carbohydrates – 5.0 g, fats – 1.0 g; 33 kcal (138 kJ).
Release form
30 tablets per pack
Storage conditions
Store in original packaging at a temperature of 4°C to 25°C in a dry, dark place and out of reach of children.
Manufacturer
Nutra Manufacturing, Inc., USA, 1050 Woodruff Road, Greenville, South Carolina, 29607; mob.: +1 800-289-4467
Sanitary and hygienic conclusion
№05.03.02-03/117866