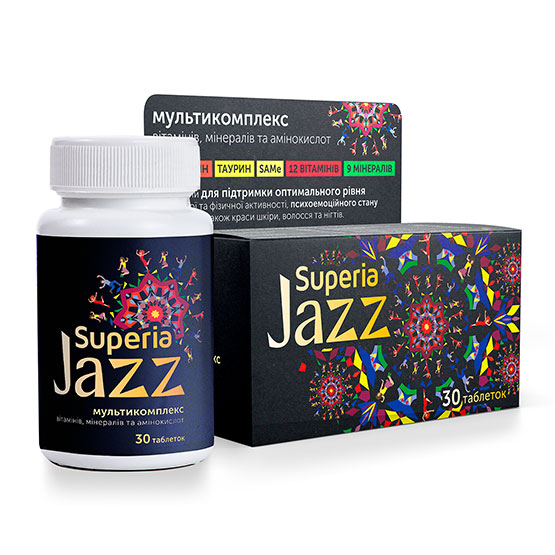 Dietary supplements
Superia Jazz
Superia Jazz
Superia Jazz is a complex containing vitamins, minerals and amino acids that improve the physical condition of the body and normalize the psycho-emotional state. Taking a dietary supplement can help improve the condition of hair, skin and nails. The complex has a beneficial effect on the functioning of the immune, cardiovascular and musculoskeletal systems. Superia Jazz also helps to protect the body's cells and enhance mental and physical activity.
Information
Indications for use (instruction): Superia Jazz
SUPERIA JAZZ is recommended as an additional source of vitamins, minerals and amino acids in order to create optimal nutritional conditions for the normal functioning of the body, in particular the immune, cardiovascular, musculoskeletal systems; helps to increase mental and physical activity, improve mood and normalize the psycho-emotional state; protection of body cells from the harmful effects of negative environmental factors; improving the functional state of the skin, hair and nails.
Recommended for use during periods of increased need for vitamins, minerals and amino acids:
Periods of intense mental and physical activity.
Emotional stress (stressful situations).
By reducing the body's resistance during infectious diseases and during the recovery period after illness.
Inadequate nutrition of vitamins, minerals and amino acids.
During periods of seasonal deficiency of vegetables and fruits in the diet.
How to use
To use for adults and children from 12 years on 1 tablet per day after meals, drinking plenty of water. The minimum course of application is 1 month. If necessary, the course of application can be repeated several times a year with a break of 1 month. A doctor's consultation is recommended before use.
Contraindications
Individual sensitivity to the components of the product, pregnancy, lactation.
Composition
1 tablet contains:
Active ingredients: L-tyrosine – 200 mg, SAME (S-adenosyl-L-methionine) - 200 mg, taurine – 200 mg, calcium (in the form of calcium carbonate) – 180 mg, vitamin C (ascorbic acid) - 100 mg, magnesium (in the form of magnesium oxide) – 80 mg, nicotinamide – 30 mg, iron (in the form of iron fumarate) – 14 mg, pantothenic acid (in the form of calcium D-pantothenate) – 12 mg, zinc (in the form of zinc oxide) – 10 mg, vitamin B6 (pyridoxine hydrochloride) – 4.1 mg, vitamin B2 (riboflavin) – 3.4 mg, vitamin B1 (thiamine hydrochloride) – 3.2 mg, vitamin E (D-alpha-tocopheryl acetate) – 2 mg , manganese (in the form of manganese sulfate) – 2 mg, copper (in the form of copper gluconate) – 1000 μg, vitamin A (retinyl acetate) – 400 μg, folic acid – 200 μg, iodine (in the form of kelp (which contains 0.1% iodine)) – 150 μg, molybdenum (in the form of sodium molybdate ) – 50 μg, selenium (in the form of the sodium chelite aminohelic complex) – 50 μg, biotin – 30 μg, vitamin D (cholecalciferol) – 5 μg, vitamin B12 (cyanocobalamin) – 3 μg.
Excipients: fillers: dicalcium phosphate, microcrystalline cellulose, stearic acid, croscarmellose sodium, magnesium stearate, amorphous silicon dioxide; tablet shell: ethylcellulose, oleic acid, medium chain triglycerides, sodium alginate, hydroxypropylmethylcellulose, triacetin, dye: titanium dioxide.
Nutritional (food) and energy value (caloric content) in 100 g : proteins - 1g, carbohydrates - 8g, fats - 1g; 190 kJ/45 kcal.
Without GMO.
Release form
30 tablets per pack. Enteric-coated tablets. Weight of 1 tablet: 2.0 g (g) ± 5%.
Manufacturer
ABH Nature's Products, Inc., USA, 131 Heartland Blvd., Edgewood, NY 11717; тел .: 1-631-249-5783
Sanitary and hygienic conclusion
No. 41 dated 04/05/2018.
Advertising dietary supplements. Not a medicine.