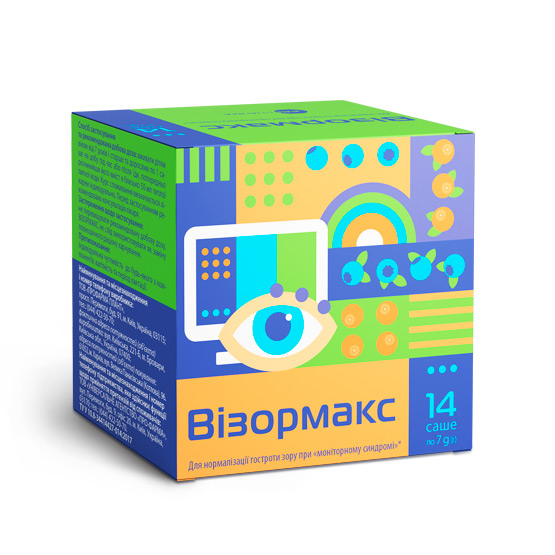 Dietary supplements
Vizormaks
Vizormax
A complex of herbal extracts recommended for the normalization of visual acuity in "monitor syndrome". There are no synthetic dyes in the composition. It is enough to take "Visormax" once a day. Convenient form of release (sachet) and berry flavor make it easy to take. Suitable for adults and children from 7 years old.
Information
Indications for use (instruction): Vizormaks
VISORMAX is recommended as a dietary supplement to the diet as an additional source of biologically active substances of plant origin (flavonoids, carotene, anthocyanins, organic acids) and vitamin C in order to improve metabolic processes in the tissues of the eye and strengthen the blood vessels of the eye, which can contribute to the normalization of vision functions, improving the adaptation of the organs of vision in conditions of insufficient illumination, maintaining normal visual function during the period of intensive growth of the child, promoting recovery after ophthalmological operations, normalizing visual acuity and reducing eye fatigue in people with increased visual stress, incl. as a result of prolonged reading, use of computer equipment ("monitor syndrome"). It has antioxidant activity and helps to protect the tissues of the eye from free radicals.
How to use
Use for children from 7 years and older and adults 1 sachet per day during or after meals, after having dissolved its content in about 50 ml of warm drinking water. The course is determined individually. It is recommended to consult a doctor before use. Do not exceed the recommended daily dose.
Contraindications
Individual sensitivity to components, pregnancy and lactation.
Composition
1 sachet contains:
Active ingredients: bilberry extract (Vaccinium myrtillus) – 200.0 mg, buckthorn buckthorn extract (Hippophae rhamnoides) – 100 mg, vitamin C (L-ascorbic acid) – 50 mg.
Excipients: fillers: fructose, strawberry pulp, citric acid, natural flavor "Black currant", natural flavor "Strawberry".
Release form
14 sachets per pack. Powder in sachet at 7.0 g (g) ± 5%.
Manufacturer
PROFARMA PLANT LLC, st. Victory, 91, Kyiv, Ukraine., 03115; tel .: (044) 422-50-70.
Actual address of production capacity (facility): st. Kievskaya, 221-B, city Brovary, Kyiv region, 07400, Ukraine.
Actual address of capacity (object) of packaging: st. Bolshaya Panasovskaya (Kotlova), 96, Kharkov, 61052 Ukraine.
Sanitary and hygienic conclusion
602-123-20-2 / 14150 dated April 2, 2018.
Advertising dietary supplements. Not a medicine.