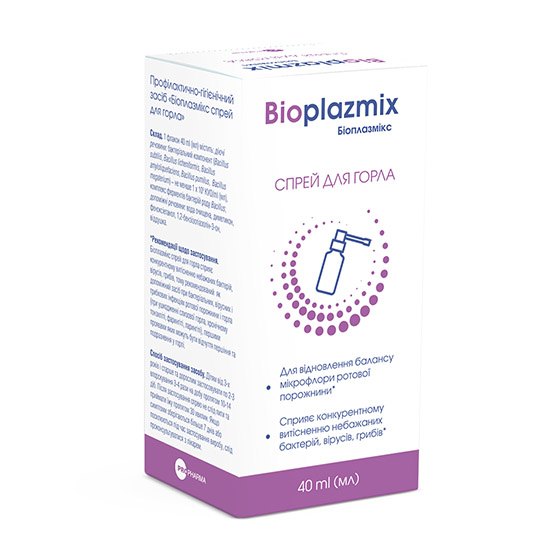 Preventive and hygienic means
Bioplazmix Throat Spray
Bioplazmix Throat Spray
Bioplasmix throat spray promotes local protection against bacteria, preventing the development of diseases. Recommended as an aid for infections of the mouth and throat, as well as for prophylaxis during seasonal outbreaks of the common cold.
Information
Indications for use (instruction): Bioplazmix Throat Spray
Bioplasmix throat spray promotes the competitive displacement of unwanted bacteria, viruses, fungi, therefore it is recommended as an adjuvant for bacterial, viral and fungal infections of the mouth and throat (in case of damage to the mucous membrane of the throat, chronic tonsillitis, pharyngitis, laryngitis), the first manifestations of which may be sensations sore throat and irritation.
It can be recommended for people experiencing discomfort in the throat associated with an imbalance in the microflora caused by adverse external factors (inhalation of smoke or irritants).
How to use
Shake well before use. For the correct use of Bioplasmix throat spray, you need to remove the protective cap, install the nebulizer, hold the bottle upright, point the nebulizer into the oral cavity, press with two fingers on the base of the nebulizer and inject. Clean sprayer and fit protective cap. It is recommended to consult a doctor before use.
For children from 3 years of age and older and for adults, use 2-3 injections 3-4 times a day for 10-14 days. After using the spray, do not drink or eat for 30 minutes. If symptoms persist for more than 7 days or worsen with the use of the product, you should consult your doctor.
Contraindications
Do not use with individual hypersensitivity to any of the components of the product. Do not use in children under 3 years of age, women during pregnancy and lactation, persons with immunodeficiencies.
Warnings
Flush the nebulizer after each use. Multiple use of the same vial can facilitate transmission. It is recommended to close the cap carefully after using the product. In case of any adverse reactions, the drug should be discontinued. Do not use the drug after the expiry date indicated on the package. Do not use if the package is damaged. Avoid contact with eyes.
Composition
1 bottle of 40 ml contains: active ingredients: bacterial component (Bacillus subtilis, Bacillus licheniformis, Bacillus amyloliquefaciens, Bacillus pumilus, Bacillus megaterium) - at least 1x106 CFU / ml, a complex of enzymes of bacteria of the genus Bacillus; auxiliary substances: purified water, dimethicone, phenoxyethanol, 1,2-benzisothiazolin-3-on, perfume.
Release form
Throat spray 40 ml in a bottle with a rotary spray and a protective cap.
Storage conditions
Store in its original packaging at a temperature not exceeding 25°C out of the reach of children, protected from light and heat sources.
Manufacturer
Gelingchem GmbH & Co. KG, Otto-Hahn-Str. 6, 40721 Hilden, Germany.
Sanitary and hygienic conclusion
№12.2-18-3 / 11064 dated 19.05.2020.