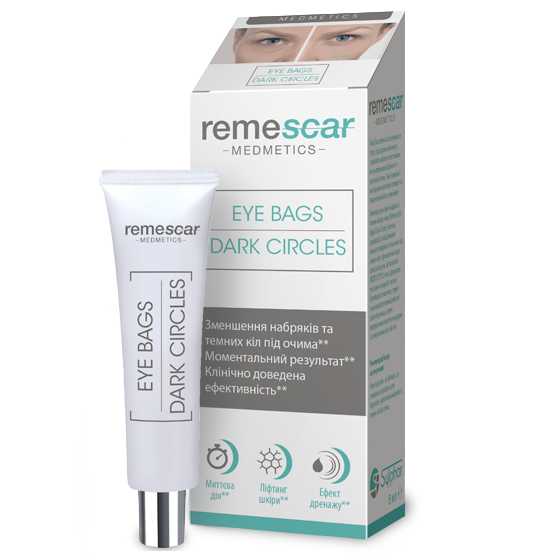 Cosmeceuticals
Remescar
Remescar
Remescar cream reduces bags and makes dark circles invisible in just a few minutes. The result is noticeable after the first use, its instantaneousness is clinically proven. The cream works on the revolutionary technology EYESYL. It is based on the action of the bipeptide complex and clay minerals. The technology provides such actions:
relieves swelling of the eyes;
eliminates dark circles;
promotes micromuscular pause;
tightens the skin.
Information
How to use
Step 1: Gently wash and dry your face.
Step 2: Squeeze a small amount of cream onto the tip of your finger. The amount of cream should be about the size of a grain of rice: if you take less, it is not quite enough to moisturize, and if more, it will be unnecessary, because it does not absorb into the skin, and may cause increased sensitivity. This is one of the key factors for the correct action of Remescar cream from Bags and Dark Circles under the Eyes.
Step 3: Gently apply the cream on the area under the eyes and smooth it with one finger in the direction from the inner edge of the eyelid to the outer. Lightly rub the cream until it is completely absorbed into the skin.
Step 4: For 2-3 minutes, you must refrain from mimicry (until the cream dries). You will get an impressive result (airflow will speed up the process). In case of applying too much cream, simply remove it with a napkin with a small amount of water. After applying the cream, wash your hands and close the tube.
Before going to bed Remescar cream must be washed off!
To remove the cream: Rinse the area of ​​application with water and dry carefully.
Makeup application:
Apply moisturizer.
Wait a few minutes.
Apply Remescar in a thin layer according to the instructions above.
When a white precipitate appears - wet the skin under the eyes with a damp cloth.
After drying means - apply makeup as usual.
Note: oil-based cosmetics can reduce the effectiveness of Remescar cream.
Composition
Aqua, Magnesium Aluminum Silicate, Sodium Silicate, Butylene Glycol, Phenoxyethanol, PEG-75 Shea Butter Glycerides, Xanthan Gum, Ethylhexylglycerin, Caprylyl Glycol, CI 19140, CI 16035, Acetyl Tetrapeptide-5, Acetyl Octapeptide-3.
Release form
Packaging, tube 8 ml.
Manufacturer
Sylphar N.V., Belgium