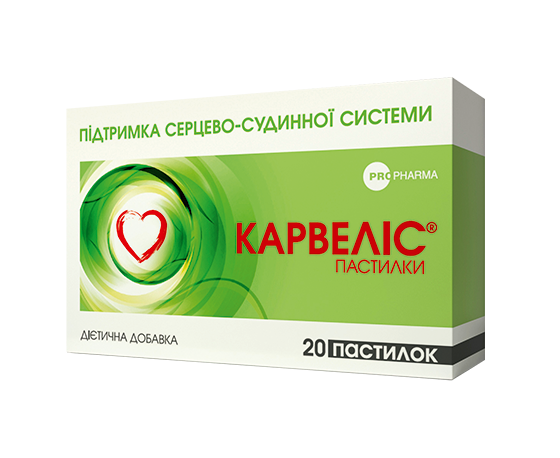 Dietary supplements
Carvelis Pastilles
Carvelis Pastilles
Pastilles "Karvelis" is a German herbal complex recommended for the purpose of normalizing the work of the cardiovascular and nervous systems with increased emotional stress, neuroses, high blood pressure.
Information
Indications for use (instruction): Carvelis Pastilles
Pastils are recommended as an additional source of flavonoids, organic acids, tannins, essential oils, choline, ascorbic acid, carotene in order to normalize the functional state of the cardiovascular and nervous systems, in particular during nervous psycho-emotional stress (stress), neurocirculatory dystonia, neurosis, arterial hypertension and improve well-being with nervous agitation.
How to use
Adults take 1 pastille 3 times a day (in the morning, noon and evening) slowly dissolving until complete dissolution (which will contribute to the rapid absorption of active substances). Before use, it is recommended to consult with your doctor.
Contraindications
Pregnancy and lactation, arterial hypotension, individual intolerance to the components.
Composition
1 pastille contains:
active ingredients: extract from a mixture of flowers and leaves of hawthorn (Crataegus monogyna) – 83.0 mg; extract of herb germ (Leonurus cardiaca) – 30.0 mg; leaf extract of Melissa officinalis (Melissa officinalis) – 8.0 mg;
fillers: maltitol, gum arabic, sorbitol, caraway gum, lavender oil, bitter fennel oil;
glowing agents: vegetable oil (a mixture of palm and coconut oils), beeswax;
sweetener: sucralose, purified water.
Release form
20 pastilles in a blister. Weight 1 lozenge: 680 mg ± 7.5%.
Manufacturer
Dr. Gustav Klein GmbH & Co., Germany
Warnings
During the period of use care should be taken in performing processes that require increased concentration of attention and speed of psychomotor reactions.
Advertising dietary supplements. Not a medicine.