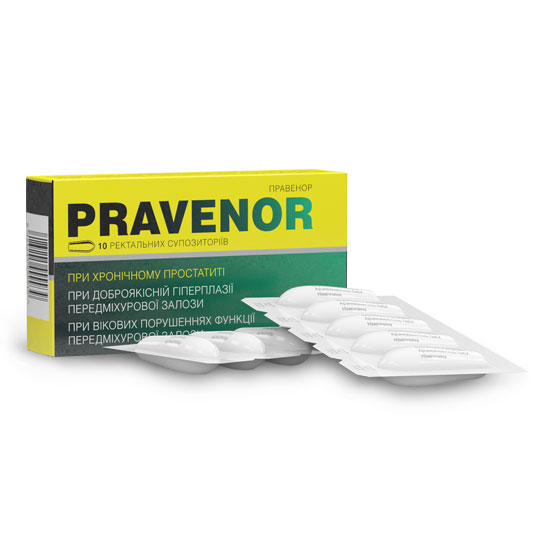 Preventive and hygienic means
Pravenor Suppositories
Pravenor Suppositories
Pravenor candles are recommended for use as a hygienic and prophylactic agent for prostatitis, to prevent the development and exacerbation of its manifestations in the presence of risk factors. The action of suppositories is aimed at reducing edema, normalizing microcirculation, and stimulating the tone of the bladder muscles.
Information
Indications for use (instruction): Pravenor Suppositories
as a prophylactic for chronic prostatitis of various origins;
for the prevention of the acute and chronic prostatitis development in the presence of risk factors (smoking, stress, alcohol abuse, physical inactivity, history of inflammatory diseases, age over 40);
benign prostatic hyperplasia;
complications after surgery on the prostate gland;
age-related changes in the prostate gland.
How to use
The suppository is injected deep into the anus. It is recommended to use 1-2 suppositories per day (morning and evening) for 5–10 days. The duration of the course is determined by the nature and severity of the patient's condition.
Contraindications
Hypersensitivity (allergy) to any of the components.
Composition
1 rectal suppository contains: active ingredients: Saw palmetto berries extract – 150 mg,Levisticum officinale extract – 50 mg, Calendula officinalis extract – 50 mg, auxiliary ingredients: solid fat.
Release form
Rectal suppositories No. 10 (yellow with a specific smell).
Storage conditions
Store in the original package in a place out of the reach of children at a temperature not exceeding 25°C.
Manufacturer
RubiePharm Arzneimittel GmbH, Bruder-Grimm-Strabe 62 36396 Steinau a.d.Strabe Hesse Cermany.
Sanitary and hygienic conclusion
No.12-2-18-3/11923 dated May 31, 2019.