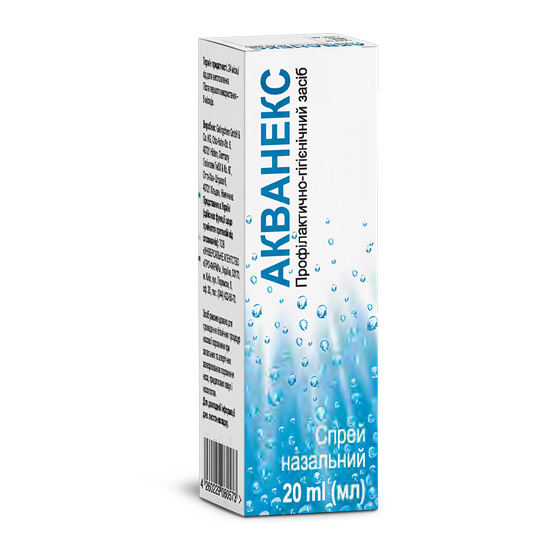 Preventive and hygienic means
Aquanex
Aquanex
Isotonic solution "Aquanex" developed on the basis of sea water. Designed for washing the nasal cavity. The microelements included in the composition increase the protective functions of the nasopharyngeal mucosa and maxillary sinuses. The solution washes away not only pathogenic microbes in the nasal cavity, but also vegetable pollen.
Information
Indications for use (instruction): Aquanex
For the hygienic procedures of the nasal cavity in inflammatory and allergic diseases of the nasal cavity, paranasal sinuses and nasopharynx (rhinitis, sinusitis, nasopharyngitis, sinusitis).
How to use
Nasal spray is used for adults and children over 3 years old and older – 1-2 injections in each nasal passage 3-4 times a day. The method of application can be adjusted by a doctor.
Contraindications
Do not use the tool for individual sensitivity to the components. Possible discomfort in the nasal cavity with the first injection of the solution. Before use, it is recommended to consult a doctor.
Composition
1 ml of solution contains: 1 ml of isotonic solution of sea salt, which corresponds to 0.9% sodium chloride solution. No preservatives.
Release form
Spray nasal in the package of 20 ml in a polymer bottle with dispenser.
Manufacturer
Gelingchem GmbH & Co. KG, Otto-Hahn-Str. 6, 40721 Hilden, Germany
Sanitary and hygienic conclusion
№ 602-123-20-3 / 30068 dated July 06, 2018