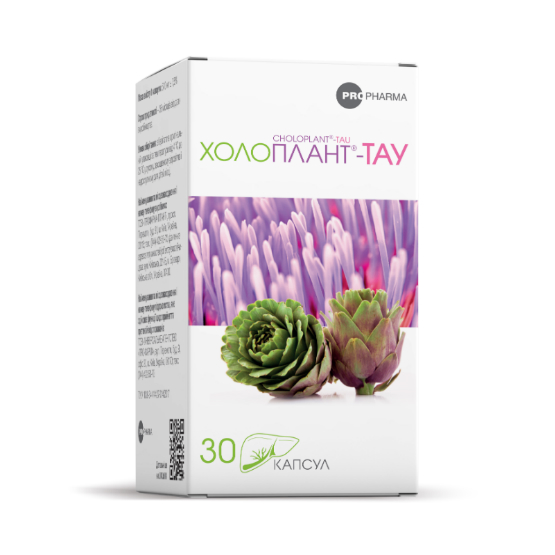 Dietary supplements
Choloplant-TAU
Choloplant-TAU
Herbal complex Holoplant TAU is recommended for normalization of the liver. The components that are part of it help to dilute and improve the outflow of bile, improve digestion.
Information
Indications for use (instruction): Choloplant-TAU
Choloplant®-TAU is recommended as an additional source of phenolcarboxylic and bile acids, taurine, inulin, polyphenolic tsinarin derivatives, flavonoids in order to normalize the functional state of the liver with:
chronic cholecystitis;
dysfunction of the gallbladder hypotonic and mixed types;
biliary dyskinesia of hypokinetic type;
gallstone disease;
cholesterosis (lipoidosis) of the gallbladder;
cholangitis;
postcholecystectomy syndrome;
chronic hepatitis;
non-alcoholic steatosis and steatohepatitis;
alcoholic liver disease;
primary biliary cirrhosis;
hepatorenal syndrome.
It is advisable to use Holoplant®-Tau in order to prevent the development of liver damage with long-term medication and metabolic syndrome. It is not a drug.
How to use
Adults take 1-2 capsules 2-3 times a day 15–30 minutes before meals. The course of application is determined individually. Before use, it is recommended to consult a doctor.
Contraindications
The period of pregnancy and lactation, acute inflammatory diseases of the biliary and urinary tract, cirrhosis in the stage of decompensation, acute pancreatitis, obstruction of the bile and urinary tract, acute renal failure and acute liver failure, individual sensitivity to any of the components.
Composition
1 capsule contains: active ingredients: artichoke leaf extract (Cynara scolymus L.) - 200 mg, ursodeoxycholic acid - 100 mg, taurine - 100 mg, Chinese angelica root extract (Angelica sinensis (Oliv.) Diels) - 50 mg.
Release form
30 capsules per jar
Manufacturer
PROFARMA PLANT LLC, st. Victory, 91, Kyiv, Ukraine., 03115; tel .: (044) 422-50-70.
Actual address of production capacity (facility): st. Kievskaya, 221-B, city Brovary, Kyiv region, 07400, Ukraine.
Sanitary and hygienic conclusion
№ 05.03.02-03 / 12273
Advertising dietary supplements. Not a medicine.