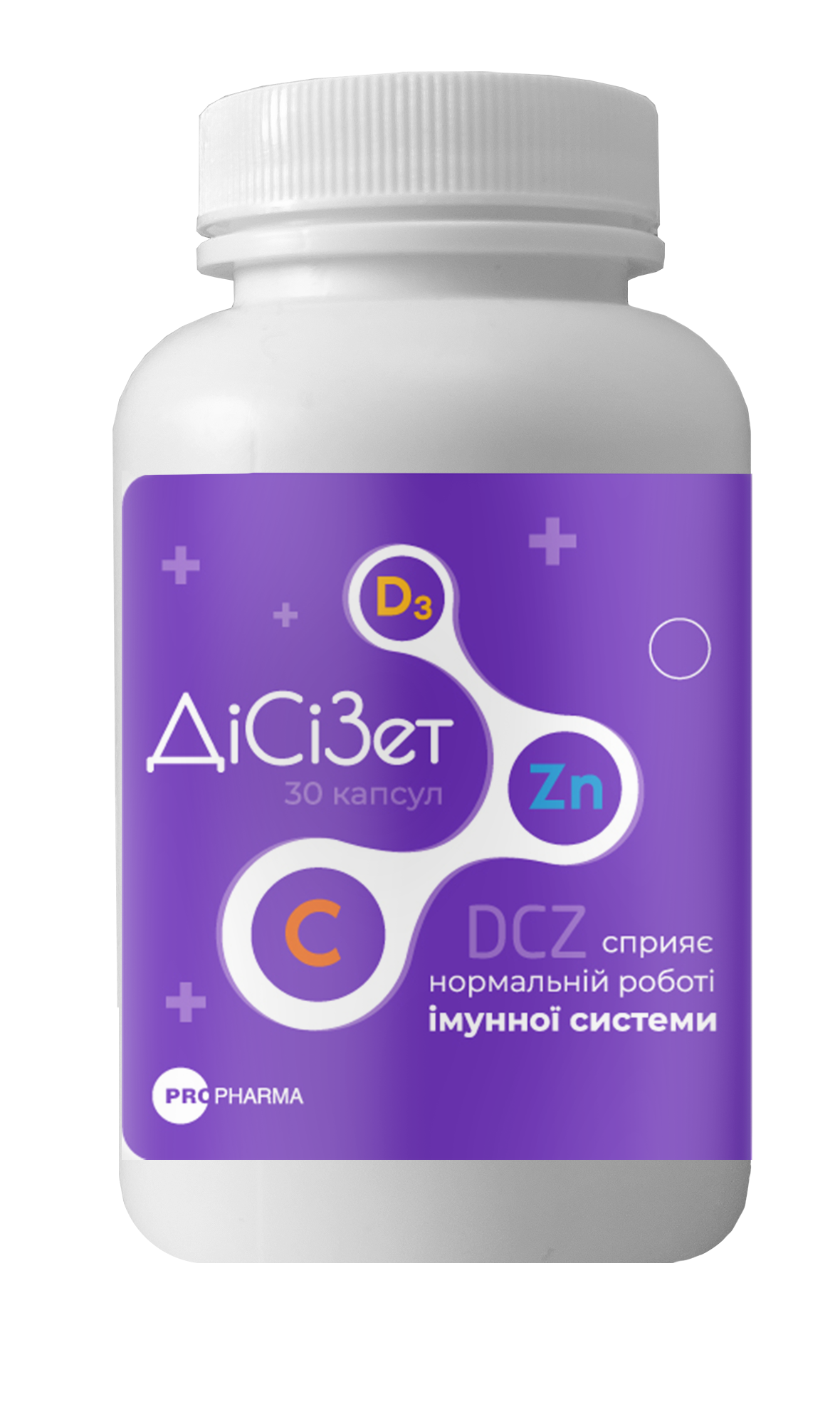 Dietary supplements
DiCiZ 30 pcs
DiCiZ 30 pcs
Dietary supplement "DiSiZet" / capsules / ascorbic acid (vitamin C) - 1000 mg (mg), zinc oxide - 19 mg (mg), (equivalent to 15 mg (mg) of elemental zinc), vitamin D3 (cholecalciferol) -1000 MO (IU) [25 μg (pg)] /30.
Information
Composition
Ingredients: 1 capsule contains: active ingredients: ascorbic acid (vitamin C) - 1000 mg (mg), zinc oxide - 19 mg (mg), (equivalent to 15 mg (mg) of elemental zinc), vitamin D3 (cholecalciferol) -1000 MO (IU) [25 μg (µg)]; excipient: antifouling agent: magnesium stearate; capsule shell: gelatin, titanium dioxide (dye). GMO free.
Indications for use (instruction): DiCiZ 30 pcs
It is recommended as an additional source of vitamins D and C and zinc, which promote the normal functioning of the immune system and protect cells from oxidative stress. Functional properties of components. As a rule, the body receives a sufficient amount of vitamins and minerals with a varied and balanced diet and following the rules of a healthy lifestyle. However, seasonal respiratory viral infections occur during periods of the year when, along with adverse weather conditions, the body and the immune system may be affected by insufficient amounts of certain vitamins and minerals.
A balanced level of vitamin C promotes the normal functioning of the immune system. Vitamin C enhances the synthesis of interferons and phagocytosis, promotes the migration of lymphocytes into the site of inflammation and infection. Vitamin C has anti-inflammatory and antioxidant properties, neutralizes free radicals, thus supporting the immune system and reducing oxidative stress. It also normalizes the permeability of capillaries and is a factor in protecting the body from the effects of stress.
Vitamin D3 and zinc are also involved in the regulation of many parts of natural and acquired immunity. The optimal amount of vitamin D3 in the body activates various mechanisms of natural (innate) immunity by modulating the activity of the cellular immune system, helps to reduce the excessive inflammatory response. Thus, vitamin D3 may help reduce the risk of respiratory infections. Zinc is actively involved in strengthening the protective functions of the body, supporting the function of the central immune system - the thymus gland, ensuring the preservation of the activity of the protective functions of cellular immunity, as it is responsible for the maturation of lymphocytes. It also helps maintain the barrier function of the lungs in inflammation. Zinc deficiency is associated with an increased risk of respiratory infections in the elderly.
How to use
Adults and children aged 14 years and older should take 1 capsule per day after meals; drink plenty of drinking water. Shelf life: 10 days with daily use and 20 days if used every other day. If necessary, the course can be repeated. It is recommended to consult a doctor before use.
Contraindications
Individual sensitivity to any of the components, pregnancy and lactation, children under 14 years, progressive systemic diseases, thrombophlebitis, thrombocytosis, diabetes, urolithiasis, hypercalcemia and / or hypercalciuria, hypervitaminosis D, renal failure.
Warnings
Do not increase the recommended daily dose. Dietary supplement should not be used as a substitute for a complete diet. When using a dietary supplement, it is important to follow the rules of a varied, balanced diet and a healthy lifestyle.
Release form
Hard capsules. Mass content of 1 capsule: 1026.4 mg (mg) ± 5%.
Storage conditions
Store in the original package at a temperature of 4 ° C to 25 ° C in a dry, protected from light and out of reach of children.
Manufacturer
Name and location and telephone number of the manufacturer: LLC "PROPHARMA PLANT", ave. Peremohy, building 91, Kyiv, Ukraine, 03115; tel .: (044) 422-50-70; actual address of production facilities (facilities): st. Kyivska, 221-B, Brovary, Kyiv region, Ukraine, 07400.
Name of the enterprise that performs the functions of accepting claims from consumers: LLC "UNIVERSAL AGENCY" PRO-PHARMA "st. Peremohy, 9, of. 20, Kyiv, 03170, Ukraine, tel .: +38 (044) 422 50 70.
Sanitary and hygienic conclusion
ТУ У 10.8-34414427-014:2017.
Advertising dietary supplements. Not a medicine.