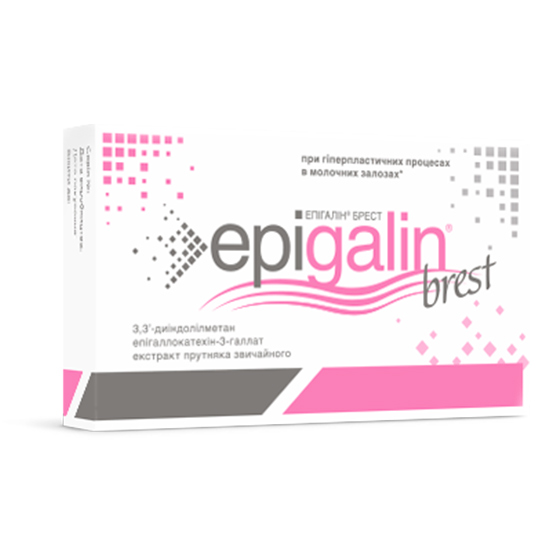 Gynecology
Epigalin Brest
Epigalin Brest
Epigalin Brest normalizes the condition of the female breast, regulates the level of prolactin and estrogen. The action is aimed at reducing discomfort, hypersensitivity, pain and engorgement in the breast. Recommended for cyclical mastalgia, PMS, in conditions that require the normalization of estrogen production, reducing prolactin.
Information
Indications for use (instruction)
In order to normalize the functional state of the breast in women with:
Cyclic mastalgia (pain in the breast).
Fibrocystic mastopathy.
Premenstrual syndrome.
States that require a decrease in prolactin levels and normalization of estrogen metabolism.
Contributes to the inhibition of abnormal cell growth.
How to use
Take 1-2 capsules per day with meals. Individual course, at least 3 months.
Contraindications
The period of pregnancy and lactation. Individual hypersensitivity to any of the components.
Composition
1 capsule contains: active ingredients: 3,3'-diindolylmethane – 200 mg, Vitex agnus-castus L. – 100 mg, green tea extract – 100 mg (containing epigallocatechin-3-gallate) – 45 mg); excipients: fillers: magnesium stearate, silicon dioxide amorphous; capsule shell: gelatin, dye: titanium dioxide.
Release form
Capsules №30.
Manufacturer
Biohealth International GmbH, Germany.
Sanitary and hygienic conclusion
№05.03.02-03/15976