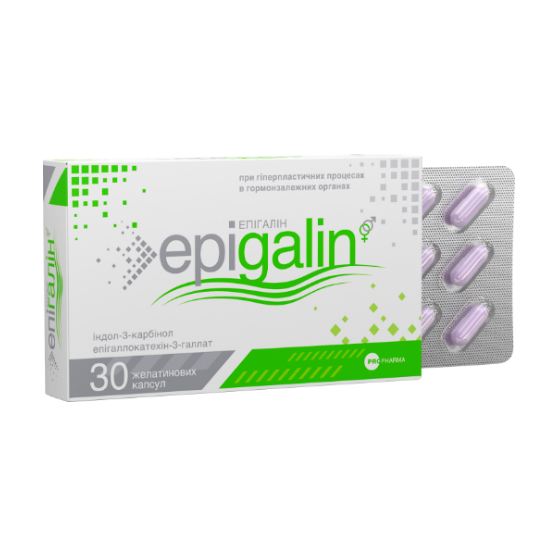 Dietary supplements
Epigalin 30 pcs
Epigalin
Epigalin is recommended as an additional source of nutrients in hyperplastic processes in hormone-dependent organs in order to inhibit their development, as well as inhibition of pathological tissue growth.
Information
Indications for use (instruction): Epigalin 30 pcs
Recommended as a dietary supplement to the diet as an additional source of indole-3-carbinol and epigallocatechin-3-gallate in order to normalize metabolic processes in the reproductive organs and mammary glands in women (including uterine leiomyoma, mastopathy, endometrial hyperplasia, endometriosis, adenomyosis; dysplastic processes in the cervix associated with HPV) and the prostate gland in men (including with prostatic hyperplasia), in order to help inhibit hyperplastic processes in hormone-dependent organs and tissues that require suppression of pathological cell growth and new vessels, activation of apoptosis, normalization of estrogen metabolism.
How to use
For adults, take 1-2 capsules daily with meals. Take the capsules whole without opening. The duration of use and the need for a second course are determined by the doctor individually.
It is recommended to consult a doctor before use.
Contraindications
Individual intolerance, pregnancy and lactation. It is not recommended for people taking products that reduce the acidity of gastric juice. It is not a drug.
Composition
Indole-3-carbinol - 200 mg, green tea extract - 100 mg (equivalent to epigallocatechin-3-gallate - 45 mg). Excipients: filler: microcrystalline cellulose; silicon dioxide amorphous; magnesium stearate; capsule shell: gelatin, titanium dioxide dye. Without GMO.
Release form
Capsules №30.
Manufacturer
ProFarma Plant LLC, Ukraine
Sanitary and hygienic conclusion
№05.03.02-03/8663
Warnings
Epigalin capsules may have a specific odor, which is a characteristic feature of indole-3-carbinol, which is part of it. The presence of a specific smell in no way affects the efficacy and safety of Epigalin.
Advertising dietary supplements. Not a medicine.