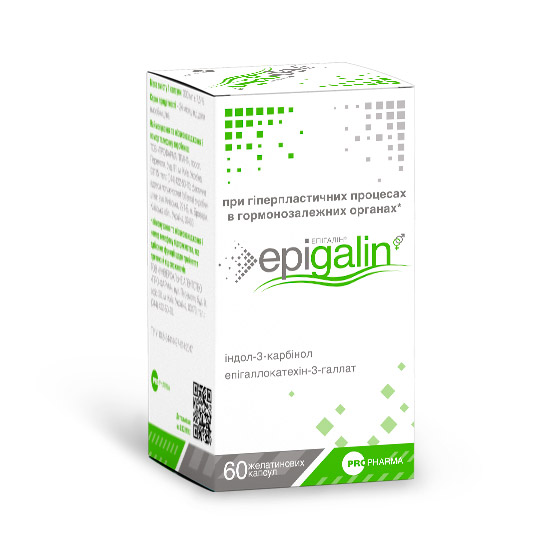 Gynecology
Epigalin
Epigalin
Recommended as an additional source of indole-3-carbinol and epigallocatechin gallate for normalization of metabolic processes in reproductive organs (including uterine leiomyoma, endometriosis, endometrial hyperplasia, adenomyosis, uterine cervical dysplasia in women, as well as . The drug promotes inhibition of hyperplastic processes in hormone-dependent organs, inhibition of pathological growth of tissues.
Information
Indications for use (instruction)
for the normalization of metabolic processes in the pelvic organs;
with benign hyperplastic diseases of the reproductive organs (fibroids, endometrial hyperplasia, mastopathy, ovarian cysts, endometriosis, adenomyosis, and prostate hyperplasia in men);
in dysplastic processes in the cervix, including those associated with HPV.
How to use
Use 1 capsule 2 times a day. Course 3–6 months.
Contraindications
Pregnancy and lactation, individual intolerance to the active or auxiliary components of capsules, therapy with antacids.
Composition
Indole-3-carbinol - 200 mg, green tea extract - 100 mg (equivalent to epigallocatechin-3-gallate - 45 mg). Excipients: filler: microcrystalline cellulose; silicon dioxide amorphous; magnesium stearate; capsule shell: gelatin, titanium dioxide dye.
Release form
Capsules №30 and №60.
Manufacturer
ProFarma Plant LLC, Ukraine
Sanitary and hygienic conclusion
№05.03.02-03/8663
Warnings
Epigalin capsules may have a specific odor, which is a characteristic feature of indole-3-carbinol, which is part of it. The presence of a specific smell in no way affects the efficacy and safety of Epigalin.