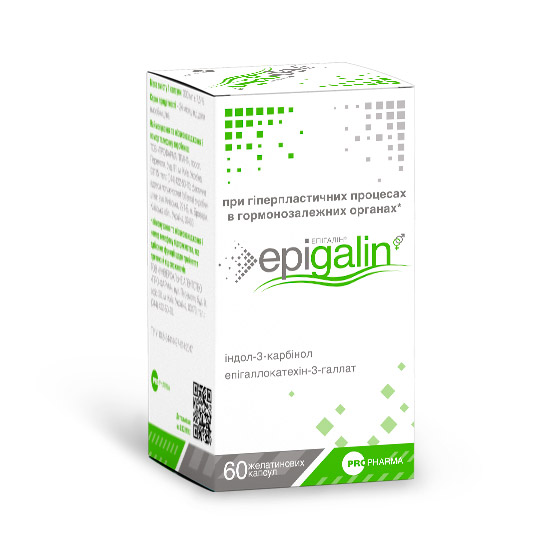 Gynecology
Epigalin
Epigalin
Biocomplex "Epigalin" is designed to combat tumors in the pelvic organs. Broccoli extract in the composition prevents the abnormal growth of cells. Green tea extract blocks the blood supply to the tumor. The biocomplex successfully delays the growth of not only poor, but also benign neoplasms. It is recommended for women with polycystic syndrome and hyperplastic processes in the reproductive organs, as well as for the prevention of complications.
Information
Indications for use (instruction)
for the normalization of metabolic processes in the pelvic organs;
with benign hyperplastic diseases of the reproductive organs (fibroids, endometrial hyperplasia, mastopathy, ovarian cysts, endometriosis, adenomyosis, and prostate hyperplasia in men);
in dysplastic processes in the cervix, including those associated with HPV.
How to use
Use 1 capsule 2 times a day. Course 3–6 months.
Contraindications
Pregnancy and lactation, individual intolerance to the active or auxiliary components of capsules, therapy with antacids.
Composition
Indole-3-carbinol - 200 mg, green tea extract - 100 mg (equivalent to epigallocatechin-3-gallate - 45 mg). Excipients: filler: microcrystalline cellulose; silicon dioxide amorphous; magnesium stearate; capsule shell: gelatin, titanium dioxide dye.
Release form
Capsules №30 and №60.
Manufacturer
ProFarma Plant LLC, Ukraine
Sanitary and hygienic conclusion
№05.03.02-03/8663
Warnings
Epigalin capsules may have a specific odor, which is a characteristic feature of indole-3-carbinol, which is part of it. The presence of a specific smell in no way affects the efficacy and safety of Epigalin.