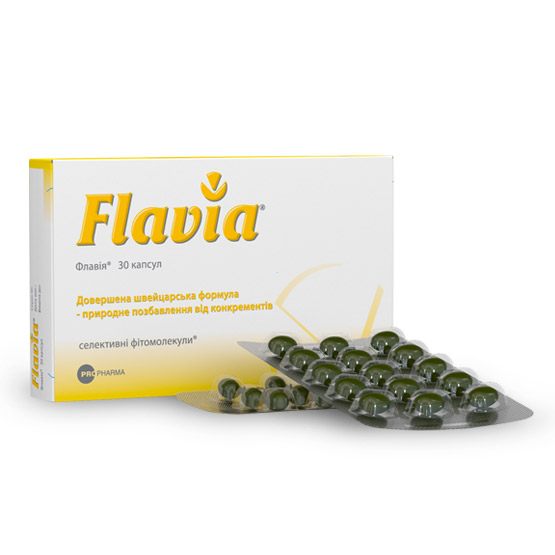 Dietary supplements
Flavia
Flavia
Capsules "Flavia" help get rid of kidney stones and prevent the development of infections and inflammation in the urinary tract in people suffering from urolithiasis. The components of the composition have antimicrobial, antispasmodic and diuretic effects, suppress hepatic colic, maintain weakly alkaline pH of urine.
Information
Indications for use (instruction): Flavia
various forms of urolithiasis, especially in cases where there is a need for chemolysis, when surgical intervention is contraindicated;
in acute and chronic inflammation of the kidneys of infectious, non-infectious and mixed genesis against the background of nephrolithiasis;
complications caused by the passage of stone fragments, incl. after shock wave lithotripsy.
How to use
Adults take 1 capsule 2 times a day, regardless of the meal. If necessary, the daily dose can be increased to 3 capsules. The course of treatment is determined by the doctor individually. Before taking it is recommended to consult a doctor.
Contraindications
Pregnancy and lactation, diarrhea, individual susceptibility of the components.
Composition
1 capsule contains:
active ingredients: castor oil (Castor oil) – 112.0 mg, pine oil (Pinus oil) – 75.0 mg, ammonia tooth extract (Ammi visnaga) – 60.0 mg, peppermint oil (Menta piperita oil) – 37 , 5 mg, juniper berry oil (Juniperus oil) – 7.5 mg, grass nettle extract (Herba leonuri cardiacae) – 6.0 mg, chamomile flower extract (Chamomillae flores) – 2.0 mg;
excipients: fillers: lecithin, glyceryl monostearate, beeswax;
capsule shell: gelatin, glycerin;
dyes: iron oxide, titanium dioxide, chlorophyll copper complexes, patented blue V, purified water.
Release form
30 capsules per pack
Manufacturer
SWISS CAPS GmbH, Germany
Sanitary and hygienic conclusion
№05.03.02-03 / 20870 dated 03.29.2013
Advertising dietary supplements. Not a medicine.