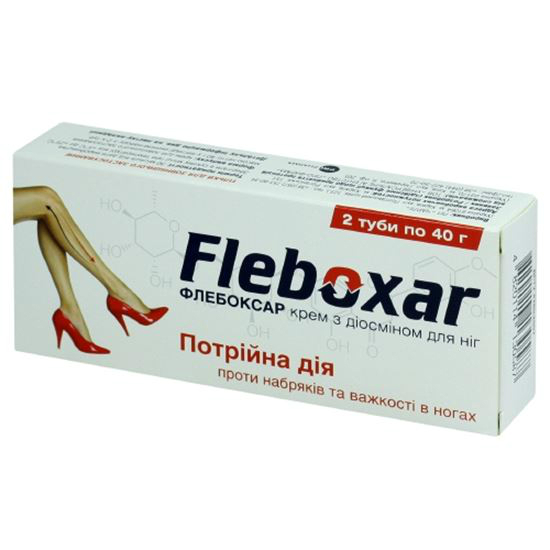 Cosmeceuticals
Fleboxar
Fleboxar
Fleboxar is a cream that provides a triple effect: it reduces swelling, improves blood circulation and prevents the appearance of a vascular network on the legs. It is quickly absorbed, giving the skin softness and elasticity. Contains ginkgo biloba, menthol and diosmin. You can read more about Fleboxar cream in the instructions.
Information
Indications for use (instruction): Fleboxar
Fleboxar foot cream with diosmin is recommended for use by adults with venous and lymphatic insufficiency (which is accompanied by leg swelling, severity, pain), varicose veins, post-traumatic hematomas and hematomas after injections and infusions.
How to use
Apply a small amount of cream with massage movements on the surface of the skin of the legs. Regular use is recommended once a day. The dosage regimen is determined individually. Do not apply on damaged skin. For external use only.
Contraindications
Individual sensitivity to the components of the cream. If it occurs, a doctor's consultation is recommended.
It is not recommended to use the cream on one area of the skin together with other medicines or cosmetics for local use.
Use during pregnancy and lactation is possible after consultation with a doctor.
Composition
Distilled water, corn oil, glycerin, ginkgo biloba extract, diosmin, glyceryl stearate, potassium cetyl phosphate, coconut oil, dimethicone, hesperidin, menthol, acrylate / C10-30 alkyl acrylate crosspolymer, sodium hydroxide, lanolin, iminfenziphenol ethanol carbamide methylparaben, ethylparaben, propylparaben, butylparaben, fragrance, D-limonene, citral, butylhydroxytoluene, benzyl benzoate, benzyl cinnamate.
Release form
Cream for external use, tube, 40 g. Production is allowed in the form of a set of 2 tubes.
Storage conditions
Store in a dry place inaccessible to children at a temperature 5–25 °C.
Manufacturer
PE Charlie, Ukraine.